From our sponsors: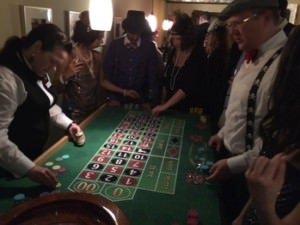 New Year's Eve Speakeasy Casino Night
December 31, 2015
8 p.m. | $49 | 21+
Tickets: speakeasy2016.brownpapertickets.com
Wine:30
10835 SE Main St – back door
Milwaukie, OR 97068
Flashback….1920 – 1933 Prohibition of the sale/manufacturing/transporting of alcohol – the depression is on – work is hard to find, and folks need a release and a place to unwind…
"Speakeasies", a place to get your drink on, called this because of the practice of speaking quietly about such a place in public, or when inside it, so as not to alert the police or neighbors! Many establishments also offered a variety of gambling.
Enjoy a night of dressing up and truly ringing in the New Year – a night to remember in style!!
Listen to live Jazz blazing away as the dice are rolling across the tables and onlookers are confident of their lucky numbers; the next winner cheers as their number hits on the roulette table; you hear the magic sound of "21" at the blackjack tables and "payday" hits.
Take a break from the tables and hear the welcoming "pop" of long-disappeared bottles of champagne, and see the bubbles flow one more time within the darkened windows of Milwaukie's only working speakeasy…shhhhhh – don't tell anyone though – as we are just across from City Hall – nothing better than doing it right under their noses!!
Get your name on the list by purchasing one of our limited tickets. Name on the list and password are required – or no entrance…don't make me get the boys and their Tommy guns after you!
Cost includes:
Entrance to Speakeasy
$50 of script money to play the tables (Craps, Blackjack, Roulette)
Live Music
Champagne Toast at Midnight
Prizes
Lite Snacks
Buy Tickets Now: Early Bird Special – $49
As tickets are very limited and nonrefundable.
Please ensure you pre-arrange your ride home and/or have a designated driver as taxi service at this time may be difficult.