From our sponsors: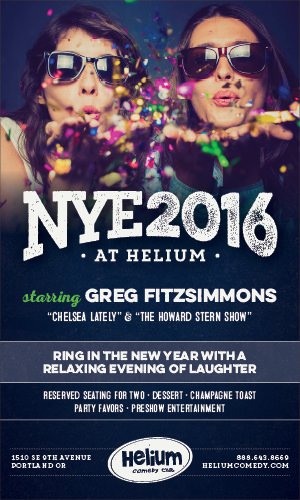 NYE 2016
December31, 2015
8 & 10:30 p.m. | $39-$55 | 21+
Tickets: heliumcomedy.com
Helium Comedy Club
1510 S.E. 9th Avenue Portland, OR 97214
(888) 643-8669
Ring in the New Year with an evening filled with laughter courtesy of Greg Fitzsimmons! Skip the chaos of the bars and enjoy a special night with food and drinks from the comfort of our lounges and showroom. There's no better place to welcome 2016 than right here at Helium!
The Reserved Package for Two, which is only available during the late show, includes champagne, dessert and two reserved tickets to the show. Reserved tickets do not necessarily guarantee a private table for two.
Greg is a stand-up comedian and television writer/producer. A regular guest on The Howard Stern Show, Chelsea Lately, The Adam Carolla Show, and The Joe Rogan Experience. His 2011 book, Dear Mrs. Fitzsimmons received critical praise from NPR and Vanity Fair.
Since 2006, Greg has hosted a radio show on Howard Stern's Sirius/XM channel and his own twice-weekly podcast, Fitzdog Radio. A regular on Letterman, Conan, and Kimmel, Greg also had two stand-up specials on Comedy Central and spent five years as a panelist on VH1's Best Week Ever.
As a writer, Greg won 4 Daytime Emmy Awards on The Ellen DeGeneres Show. He also worked on HBO's Lucky Louie, Politically Incorrect w/ Bill Maher and many others. He has created and executive produced pilots for VH1 and FX and served as head writer on The Chelsea Handler Show, The Man Show, and Tiny Tonight.
Greg is the winner of "The Jury Award for Best Comedian" from The HBO Comedy Arts Festival and a Cable Ace Award for the MTV game show he hosted called Idiot Savants.