We are giving away a pair of tickets to Funky Saxophones & Afro-Cuban Mash-up!! @ Star Theater on December 26. To win, comment on this post why you'd like to attend. Winner will be drawn and emailed Monday, December 21.
———————————————
From our sponsors: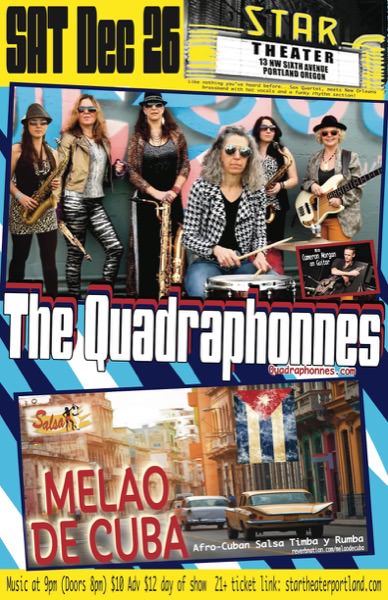 Funky Saxophones & Afro-Cuban Mash-up!!
December 26, 2015
Doors 8 p.m., Show 9 p.m. | $12 Doors | 21+
Tickets: startheaterportland.com
Star Theater
13 NW 6th Ave, Portland, OR 97209
Quadraphonnes
Just a little over one year after releasing their sophomore album, Get The Funk Out!, The Quadraphonnes bring to the stage a hard-hitting, funk infused show. The now 7 piece band, with the addition of guitarist Cameron Morgan, not only gets the party going with high energy horn lines and powerhouse vocals, but also lays down the funk with screaming guitar solos and a rock solid rhythm section.
Passionate about the saxophone, its characteristics and possibilities, these strong, talented, ladies break the boundaries of the saxophone quartet with their mighty chops, tantalizing grooves, soaring solos and dynamic vocals. Covering a variety of musical styles from jazz-funk-pop, to avant-garde, gypsy-punk and classical, the quads put on a great show! Celebrating their 8th year together, their newest album, Get the Funk Out! is all funk, all original and features their booty-shaking rhythm section with cameo guest appearances from guitarist, Jennifer Batten and percussionist, Mike Snyder. Mary-Sue Tobin, Chelsea Luker, Mieke Bruggeman and Michelle Medler are multi-talented, serious musicians who defy the idea that four beautiful women playing saxes is just a gimmick. The Quadraphonnes will blow you away!
Melao de Cuba
Melao, the Spanish word for molasses, is a group of talented Portland musicians who come together to share the beauty and exuberance of traditional Cuban music.
Just as molasses is transformed into one of the oldest spirits of the world, rum, Melao transforms elements of Afro-Cuban and Spanish music into vibrant, danceable music that lifts your spirit and brings joy to your heart.
Melao de Cuba 100% Salsa Orchestra is a salsa band with a fierce horns section!!
Virginia López, Lead Vocals, percussion
Mieke Bruggeman, Vocals, Baritone Sax
Caroline Chaparro, Tenor Sax
Chris Nakato, Trombone
Ronell Aguilera, Trumpet
Levis Dragulin, Trumpet
Samuel Eisen-Meyer, Electric Guitar
Art Alexander, Piano
Bryan Hopkins, Bass
Jay Machamer, Congas
Mimy, timbales
Booking / Contact
Virginia López / 503-720-8275
www.virginialopez.me
MELAO DE CUBA 100% SALSA ORCHESTRA, Portland Oregon.
"Solid Salsa inspired beats with Afro-Cuban Rhythms that makes the audience get up and dance!"
CUARTETO SON CUBANO
"Traditional Cuban Country Music, the roots of Salsa!"
Connect with us on Facebook:
http://www.facebook.com/melaodecuba
https://www.facebook.com/virginiasoncubano
Order our EP:
http://www.cdbaby.com/cd/melaodecuba
Video Links:
https://www.reverbnation.com/melaodecuba
https://www.youtube.com/watch?v=AJVe0yZJt5w