From our sponsors: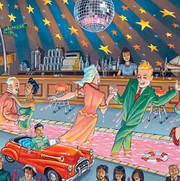 2016 New Year's Eve Celebration w/ Cooper Lynn Hayes, Tony Smiley + The Junebugs
December 31, 2015
Music 9 p.m., $10 ADV, $15 Doors | 21+
Tickets: mcmenamins.com
McMenamins Edgefield
2126 SW Halsey St, Troutdale, OR 97060
(503) 669-8610
Make it a night to remember by booking one of our exclusive overnight packages and partying to live music in Blackberry Hall. Head to the Loading Dock heated tent for music, too. Packages must be booked through the front desk at Edgefield.
LIVE MUSIC
9 p.m. 'til 12:30 a.m.
Tony Smiley at the Loading Dock
Cooper Lynn Hayes at Blackberry Hall
(One ticket gets you into both shows)
The Junebugs at the Winery * Free
About Cooper Lynn Hayes
A veritable fireball, Cooper radiates passion onstage and in the studio. The red haired dynamo was raised in the Oregon coastal mountains but can be found gypsying about the country stealing hearts. She brings a magical stage presence that lingers long after she has skipped town. Cooper has recently opened for such legends as Wanda Jackson, Mavis Staples, and Robert Plant. Music City Roots calls her "delightful, twinkly, impassioned, and on the make."
About Tony Smiley
Since 2000, Tony Smiley has captured audiences with his unique beats. This musical savant loops his way through a unique genre of music that you won't find anywhere else. All with witty, engaging, and energetic stage presence. His cosmic dance of electric melodies mixed with world beats, Mongolian throat singing and beat-boxing have earned the Loop Ninja a cult like following who repeatedly embark on his musical journey. Creating each track with a raw, primal and pulsating connection between rich sounds and passionate lyrics.