From our sponsors: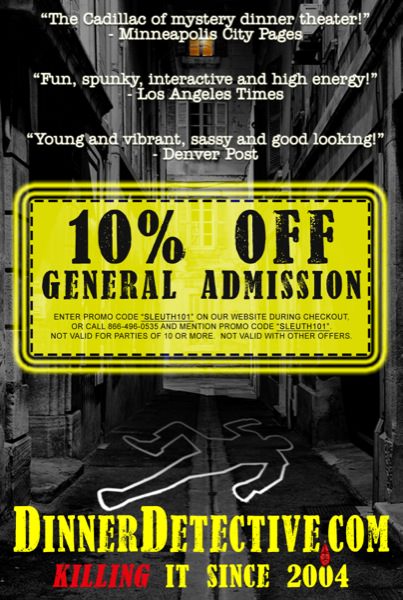 The Dinner Detective Murder Mystery Show
November 28, 2015 | $59.95 per person
Tickets: thedinnerdetective.com
Crowne Plaza Hotel
1441 Northeast 2nd Avenue, Portland, OR
97232
The Dinner Detective® is America's LARGEST murder mystery comedy dinner show! You'll solve a hilarious murder case while you enjoy a fantastic four-course plated dinner. A tantalizing Prize Package awaits our Top Sleuth of the evening. But be careful! In this show, EVERYONE is a suspect, even YOU, and the killer might be at your table!
When you attend our shows, you'll be able to enjoy delicious hors d'oeuvres, a baby green salad, plus local delicacies as the main dish. All the ingredients, including the salad, come from the Northwest region surrounding Portland. You can enjoy dishes like our popular pan-roasted steelhead salmon that's very indicative of local cuisine.
You might be at the advantage having the salmon, because we all know salmon helps the brain. And you'll need to stay sharp while you're eating if you choose to be involved with our interactive murder mystery. That's because things will be happening even during the dinner portion that you'll have to pay attention to if you want to solve the crime.
Part of this comes in our cast members being secretly integrated into the crowd. One of them may be sitting right next to you enjoying the same meal you are.
Desserts and Beverages
To add even more fuel to keep your energy up, we provide scrumptious desserts afterward that you'll love. Plus, any type of beverage is available for a nominal fee, including coffee to keep you on your toes. Regardless of the food the energy provides, you'll be thoroughly engaged in the show thanks to our clever sense of integration and interactivity. While we don't force you to participate, your involvement can change the direction of where the show goes.
However, can you manage to balance enjoying a meal while solving a murder mystery?

Creating the Ultimate Entertainment Experience
Being able to solve a mystery after eating delicious food is an entertainment experience you won't find anywhere else. Be careful taking too big a bite, too, or one of our cast members could give you a huge belly laugh. You'll soon find out how hilarious our shows are, and you'll be experiencing different things all at once.
For many, enjoying food, laughing, and using the intellect to solve a crime is the ultimate entertainment experience. Because you can't find this combination many other places, prepare to not sit passively for two and a half hours.