From our sponsors: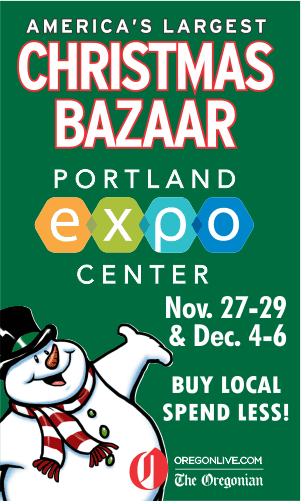 America's Largest Christmas Bazaar
November 27-29, December 4-6, 2015
$7 for adults – kids 12 and under are $3
More info: expochristmasbazaar.com
Portland EXPO Center
2060 N Marine Dr, Portland, OR 97217
(503) 736-5200
For the past 34 years, the Christmas Bazaar has been a day-after-Thanksgiving tradition for thousands of families! And for good reason, you can find hundreds of handcrafted gifts made by local and regional artisans and craftspeople. The handcrafted sections of the show are juried, so only the best-of-the-best is allowed to display. The entire show is filled with hundreds more gift ideas as well; it's the most complete gift show of its kind in the Northwest.
This show is a great way to exchange the frantic shopping environments of the malls to strolling down the aisles at the Expo Center where you'll find the perfect blend of made-by-hand items. The vendors who fill the 900 booths at the show have been working on their gifts, toys, treats and decorations since early last year (much like a big red elf we all know).
Among the hundreds of booths you will discover special gifts for men, women, children, friends and even your pet! You'll find hand-crafted, one of a kind gifts, holiday foods and gourmet treats, personalized ornaments, apparel, fresh greenery, useful household gadgets, smoked salmon, all kinds of jewelry, stocking stuffers, gifts from foreign lands, vintage collectibles and much more. Rather than running all over the city to fulfill your gift list, make America's Largest Christmas Bazaar your one-stop shopping experience. Look for gorgeous items made here in the Northwest such as candles, jewelry, hand-painted personalized Christmas ornaments, soap sold by the slice, organic natural beauty products, and much, much more!