From our sponsors: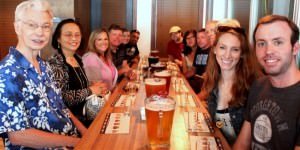 BeerQuest PDX Holiday Party
November – January 2015
$49+ | 21+
Reservations: beerquestpdx.com
This unique beer tasting experience pins teams against each other in a battle of wit, speed and sobriety. Teams play hands-on, interactive games while sampling 12 local craft beers. Perfect for a unique holiday party with lots of laughs.
This is a interactive group experience and our games will provide instant laughs and heart-pounding fun. Our unique games are a combination of knowledge-based contests and fast paced, speed games. All games are quick, easy-to-learn and anyone can play.
The Beer & Board Games tour lasts 3 rounds, each one at a different bar or brewery. Beer stops include Kells Irish Pub, Rock Bottom Brewing and Old Town Pizza. Games do not require drinking and groups are free to sample the beer as they wish. Tours last about 3 hours and food and transportation arrangements can be made for before and after the tour.
Beer Games Tour:
8-11 people: $65 per person
12-15 people: $55 per person
16+ people: $49 per person
* If you have less than 8 people, our base rate of $470 still applies
Our Haunted Pub Tour and Brewery Tour as also available for private groups.