From our sponsors: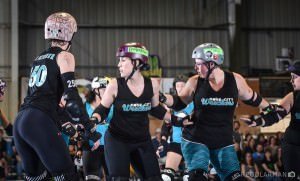 Rose City Rollers
November 13-15, 2015
$8-$12 | All Ages
More info: rosecityrollers.com
The Hangar at Oaks Park
7805 SE Oaks Park Way, Portland, OR 97202
(503) 233-5777
Wreckers vs GRG Mountain Mavens
November 13, Doors 7 p.m. / Bout at 8 pm
That everlasting fountain of derby talent, the RCR Wreckers, will play host to the GRG Mountain Mavens right here in Portland!
Will they prevail? Will there be Wreckage on the flat track? Only one way to find out!
This is the very last public Wrecker's bout until 2016! Don't miss it!
———-
Rosebuds Double Header
November 14, 2015, Doors open at 5 p.m., Event starts at 6 p.m.
The fastest growing young women's athletics program in Oregon gears up for a fun night of TWO FULL BOUTS! Team pride is on the line.
The night will open with Rose City Junior Derby teams Death Scar Derby Droids meeting the Rainbow Bites in open combat on the skate floor.
Following this magnificent spectacle will be the ever handy Little Red Riveters facing off with the ever rotten Undead Avengers.
These are the #4 and #5 ranked bout for the junior home teams of Rose City Rollers.
———-
Rose City Rose Petals
November 15, 2015, Doors 12:30 p.m. / Bout at 1 pm
Portland's own Rose City Rose Petals keep their second season going strong as the Daughters of Doom try to pin down the Voodoo Dolls.