From our sponsors: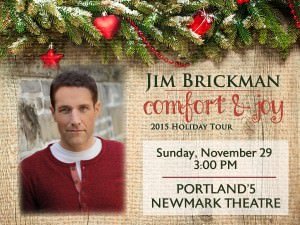 Comfort & Joy – 2015 Holiday Tour
November 29, 2015
3 p.m. | $28-$64 | All Ages
More info: jimbrickman.com/tour
Newmark Theater
1111 SW Broadway Ave. Portland, OR 97205
Embarking on his 19th annual holiday tour, Jim Brickman will bring together the sounds of the season with Comfort & Joy, the 2015 Holiday Tour. Hailed by the Boston Herald as a "crowd-pleaser," Brickman celebrates this one-of-a-kind concert event with lush piano instrumentals and soaring vocals.
Celebrating the Christmas spirit from coast to coast, Brickman will showcase new music, along with holiday favorites and the hits that makes him the most charted Billboard® Adult Contemporary artist, earning him two Grammy® nods and four certified gold albums. With featured musical guests, Anne Cochran and Tracy Silverman, feelings of comfort and joy are fused together with Brickman's most beloved hits like "Valentine," "If You Believe," "The Gift," "Angel Eyes," and "Sending You A Little Christmas." You'll be reminded of what we cherish during the most wonderful time of the year. . . Togetherness.
"His annual holiday tours have become so successful that he's becoming synonymous with the season. At this stage in his career, Brickman remains one of the most popular figures in pop instrumental music," said the Richmond Times Dispatch. "His rhapsodic melodies coupled with considerable stage charm has made him a phenomenon," hailed the Boston Herald.
"I love to perform live more than anything and I think the tone of my shows is such a familial and inviting type of experience that it's really become a tradition for a lot of people, which I'm thankful for," says Brickman.
Brickman's newest CD, Comfort & Joy, celebrates the wonder of the holidays with a collection of brand new originals and traditional favorites. From the Rock Hall to Broadway, Brickman brings together the best in music with featured performers including the legendary Johnny Mathis, John Oates, Tracy Silverman, Charlie Alan and Leslie Odom Jr.
Comfort & Joy will kickoff the Saturday after Thanksgiving (November 28) in Sacramento, CA. For a full list of tour stops, visit www.jimbrickman.com/tour.
ABOUT JIM BRICKMAN
JIM BRICKMAN has revolutionized the sound of solo piano with his pop-style instrumentals and star studded vocal collaborations.
Since the release of his debut album, No Words, in 1994, Brickman's romantic piano sound has made him the best selling solo piano artist of our time. His signature style has also brought him two Grammy nods, four certified Gold albums and 30 charted adult radio hits. Brickman received top honors with two SESAC "Songwriter of the Year" awards, a Canadian Country Music Award and a Dove Award presented by the Gospel Music Association.
Brickman's best-known compositions include the chart-toppers "Valentine," "The Gift," "Love of My Life," "Simple Things" and "Peace." He has established a reputation for his collaborations with many gifted musical artists that include: Martina McBride, Kenny Rogers, Lady Antebellum, Johnny Mathis, Michael W. Smith, Kenny Loggins, Carly Simon, Herb Alpert, Collin Raye, Michael Bolton, Sara Evans, Donny Osmond, and Olivia Newton-John.
A native of Cleveland, Ohio, Brickman began playing piano at the age of five. He studied at the prestigious Cleveland Institute of Music, where a scholarship has been established in his honor, and founded his own advertising music company in 1980.
Brickman has received worldwide acclaim as a performer. His concerts have been enjoyed internationally and in over 125 cities across the U.S, including shows at Carnegie Hall and the White House. He is performing on his eighth Jim Brickman Cruise in October 2015. Brickman is host of Your Weekend with Jim Brickman, a weekly radio show heard in over 80 cities across North America. He has authored three best-selling books, Soothe: How to find calm amid the chaos, Simple Things and Love Notes.
A strong supporter of PBS, Brickman has taped five concert specials presented on the network, which include Celebration of the 70's (2013) Beautiful World (2009), Jim Brickman at the Magic Kingdom—The Disney Songbook (2005), My Romance, An Evening with Jim Brickman (2000) and Love Songs and Lullabies (2002).