From our sponsors: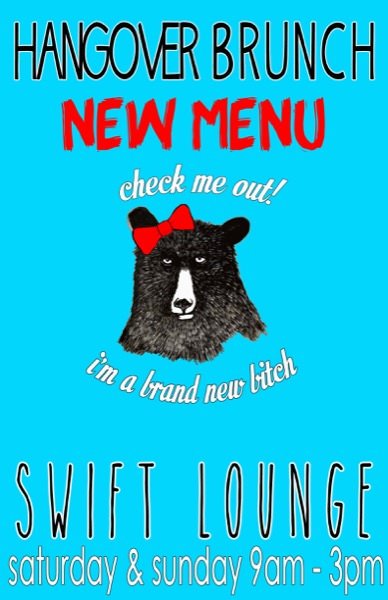 Hangover Brunch
Every Saturday & Sunday
9 a.m. – 3 p.m. | 21 and over
Drink Menu | Swift Brunch Menu
Swift Lounge
1932 Northeast Broadway Street Portland, OR 97232
(503) 288-3333 | More Info: www.swiftloungepdx.com
Swift Lounge presents the ultimate hangover cure for your weekend shenanigans. No kids, no dress up, no small talk, no bull-corn. Hangover brunch is here from 9 a.m. to 3 p.m. every Saturday to provide you with hearty breakfast fare and libations to prime you for yet another night on the town.
Brunch specials include The Big Burrito, Sweetie Waffles, & Frenchie Toast.
Libations include buckets, that's right, buckets of mimosas, Pop Rock Mimosas, Beergahritas, meat and veggie friendly bloody marys and boozy heaters to warm the soul.
HUNGOVER BRUNCH
grub
SKINNY BREAKFAST $8
1/2 grapefruit, hard-boiled egg, chef's cheese selections, toast
THE BASICS $10
two farm eggs, roasted potatoes, choice of roasted turkey, smoked ham, bacon, or country sausage
(choice of house biscuit or toast)
DAILY SCRAMBLE SPECIAL $9
check in with your highly knowledgeable waitstaff or the beautifully designed specials board
(choice of house biscuit or toast)
THE BIG BURRITO $9
scrambled eggs, chorizo sausage, chedda', house cut fries, shallots, bell peppers, spinach (all inside)
served with salsa verde & sour cream
+ smother it with country gravy fer $2
BISCUITS & GRAVY half $4 — full $8
two fluffy house biscuits drowned in country sausage gravy +two farm eggs add $2FARMER'S BREAKFAST $10
house cured bacon, onions, roasted brussel sprouts, grits, 2 farm eggs your way
FARMER'S BREAKFAST $10
house cured bacon, onions, roasted brussel sprouts, grits, and 2 farm eggs your way
SWIFT BENEDICT $11
house biscuits, fried farm eggs, BBQ pulled pork, collard greens, hollandaise
HUEVOS RANCHEROS $10
tortillas, chorizo sausage, eggs, red beans, salsa verde, cotija cheese, lime creme fraiche
CHICKEN FRIED PORK $10
pork schnitzel, farm eggs, smothered in country gravy, served with roasted potatoes
MONTE CRISTO $12
three dredged bricohe layers stacked with roasted turkey, cream cheese cranberry compote,
powdered suga' & house syrup, served with herb roasted potatoes
SWEETIE WAFFLES $8  
classic waffles, seasonal berries, cranberry compote
FRENCHIE TOAST $8
challah loaves with seasonal berries and house syrup (peanut butter upon request)
SWIFT B.L.T. $10
house cured bacon, house slaw, lettuce, tomato, with house cut fries +add fried egg fer $1
CAESAR SALAD $9
romaine, parmesan, croutons, creamy caesar dressing
+ add herb-grilled chicken fer $4
SIDES
farm egg $1     sour cream & salsa verde $1     house biscuit $2     house toast $2
sausage gravy $2    smoked ham $3     country sausage $3     house-cured bacon $3
roasted turkey $3     house-cut french fries $3     herb-roasted potatoes $3     chedda' grits $3
brussel sprouts $4      seasonal fruit $4
dranks
MIMOSA BUCKET $12
bottle of bubbles + bottle of your choice juice (OJ or P.O.G.)
+ make it a rim job (add POP ROCKS) $1 per glass
DAILY MIMOSA SPECIAL $6
ask your extremely knowledgeable server or check the specials board
MIMOSA $6
bubbles + your choice juice (OJ or P.O.G.)
BEERGAHRITA
blanco tequila, triple sec, fresh lime, pacifico lager, rock salt
HOLY TRINITY
vanilla bean & maple infused bourbon, steelhead root beer, bourbon whip, bacon dust
YELAPA SUNRISE
mezcal, house jalapeno grenadine, citrus, amarena cherry
OLD COUPLE
OLD german pounder + shot of OLD crow bourbon
MASONS AVAILABLE FOR BRUNCH (16oz) $6 (32oz) $8