From our sponsors: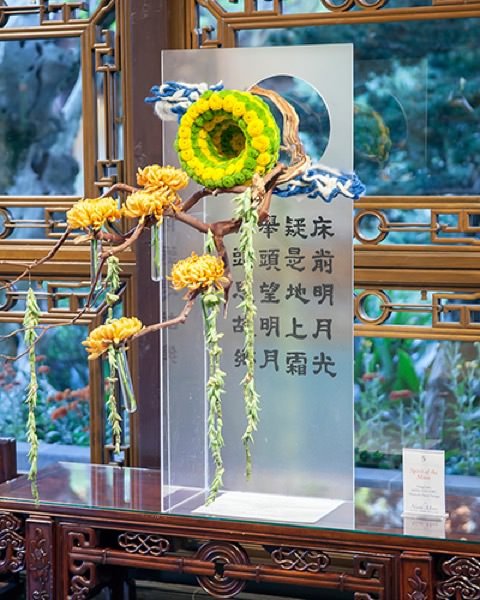 Ninth Moon Floral Design Showcase
November 6-8, 2015
More info: lansugarden.org
Lan Su Chinese Garden
239 NW Everett St, Portland, OR 97209
(503) 228-8131
This November, 25 of the most accomplished floral designers from Oregon, Washington, California, Montana, Idaho and British Columbia go head‑to‑head and flower‑to‑flower, in the second annual Ninth Moon Floral Design Showcase. Held in the pavilions of Lan Su Chinese Garden November 6-8, 2015, this highly anticipated design competition tests the creative imaginations of these amazing artists as they create stunning displays – all of which feature the chrysanthemum, one of China's most culturally significant flowers.
In addition to the 25 floral artworks on display, the Ninth Moon Floral Design Showcase includes a series of floral art demonstrations by Vancouver, B.C featured designer and floral educator Louisa Lam, AIFD CFD CPFD, on Saturday, November 7 and Sunday, November 8.
Lan Su Chinese Garden and Portland's Floral Design Institute are hosting this three-day exhibition and showcase as part of Lan Su's annual Mumvember celebration. Mumvember is a month-long series of events tied to the chrysanthemum, featuring cut and potted chrysanthemum displays throughout Lan Su, talks from plant experts, floral design demonstrations and more.
Featured Designer
A well-recognized florist both in Canada and her native Hong Kong. She has more than 25 years of extensive experience in various roles including trade show booth designer, demonstrator, lecturer, professional floral artist, project management and educator. Louisa is also a columnist for the Sing Tao Weekly Magazine.
In 1991, Louisa was the first Asian floral designer to obtain a membership in the Canadian Professional Floral Designer Association (CPFD) and in 2009 she was inducted into American Institute of Floral Designers (AIFD). She has been the committee member of International Task Force and Volunteers Task Force of AIFD. In addition, Louisa was recognized by AIFD as a Certified Floral Evaluator/Judge in 2013.
Opening Night Preview Party
November 6, 2015 – 7-9 p.m.
Visitors and floral design enthusiasts have the chance to meet the designers, enjoy a beautiful evening in Lan Su Chinese Garden mingling among the displays, see featured designer Louisa Lam create a display before their eyes and cast their votes for the "People's Choice" award. Live music and decadent desserts provided by Cacao, Saint Cupcake, St. Honoré Boulangerie, and sparkling wine courtesy of Southern Wine and Spirits of Oregon round out the evening.
Tickets are $75 for the general public and $65 for members of Lan Su. Tickets are available at www.lansugarden.org/ninthmoonparty.