From our sponsors: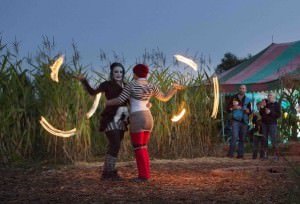 Kruger Farms 2015 Haunted Maze & Corn Cabaret
October 2-31, 2015
Haunted Maze: Thursday – Saturdays
Cabaret: Friday & Saturday
$15 Adults, $10 Children 5-12
More info: krugersfarm.com
Kruger's Farm
17100 NW Sauvie Island Rd, Portland, Oregon 97231
Keep Portland weird? Done. A dark field is scary enough. Ride out to the field on a hayride? Even scarier. Add to it multiple ways to get lost and an air of terrifying sophistication, and you've got Kruger's Haunted Maze and Corn Cabaret.
Haunted Maze
Make your way through a field of freaks to the Haunted Maze from 6 pm to 10 pm on weekends and select Thursdays in the month of October. An eerie mist hovers over 3 acres of terrifying trails; surprises loom at every turn. One wrong turn and you could find yourself in Dracula's nostril. Equally challenging is finding your way out around Swamp Man and Bandaged Head Guy carved into puzzling trails. (Kid alert: Not recommended for small, impressionable young children.)
Haunted Maze Admission and Hours
Fridays: October 2 through 30
Saturdays: October 3 – October 31
Hours: Dark – 10 p.m.
Haunting/Cabaret Admission: $15 Adults / $10 Children Ages 5 – 12 / Not recommended for small children.
Admission to the Haunted Maze includes Cabaret Admission.
No long lines, no huge crowds. Tickets for the Haunted Maze are sold with timed entries to ensure that patrons are able to get through the Haunted Maze in a timely manner. Since tickets to the Haunted Maze include admission to the Cabaret, tickets holders are welcome to explore Cabaret until it's time for their haunting.
Corn Cabaret
In the middle of the maze, you'll discover a big top circus tent where the Corn Cabaret lights up the sky.
Watch a movie
What better way to experience the Twilight Zone's scary scenes than in an actual cornfield? Or catch everybody's favorite introvert, Jack from The Shining. Watch them in the outdoor theater in the maze.
Get bedazzled
Fire dancers bend light into arcs and swirls. Hoola hoop dancers defy physics. Cabaret performers sparkle in the moonlight. It's where whimsy meets wacky for a fantastical night under the stars.
Dance in the dark
Live music. Local musicians. Libations. All in the middle of the maze under the big tent from 6:30 pm until 9:30 pm on the following Corn Cabaret Nights:
Regular Maze Admission and Hours
Visiting the maze sans music, cabaret performers or creepy outdoor movies is much more fun for small children. Here's when to bring the kids:
Monday-Thursday: 9 am – 6 pm
Friday & Saturday: 9 am – 6 pm Haunted Maze
Sunday: 9 am – 8 pm
Admission during non-Cabaret times is $6 for anyone 5 and older. Children 4 years of age and under are free.
On Friday and Saturday nights after 6 pm, admission to the Haunted Maze is $10 for adults, $5 for children ages 5 and older, and free to age 4 and younger.
About Kruger's Farm
Kruger's Farm features a produce market with vegetables and fruit hand-picked every day, u-cut flowers with over 50 varieties, u-pick produce and picnic areas. Kruger's Farm also carries canning supplies and features a retail section with market baskets from Ghana, sun hats and children's garden items. For more information, please visit krugersfarm.com or call 503-621-3489. The farm is open daily from 9 am to 7 pm and 9 am to 10 pm on weekends through October.
Directions to Kruger's Farm Market:
Take Highway 30 north past Linnton to the Sauvie Island Bridge.
Cross the bridge, proceed north approximately 1 mile on Sauvie Island Road.
Turn right into Kruger's Farm Market.