From our sponsors: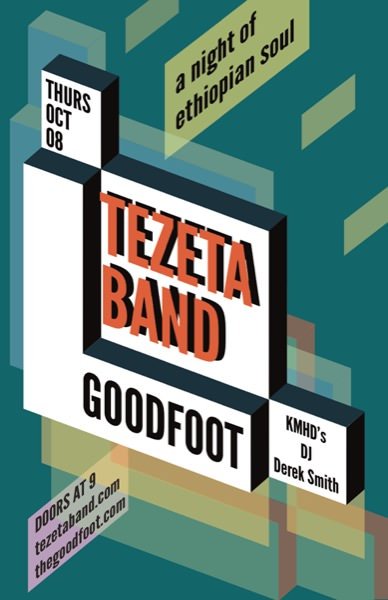 Tezeta Band
October 8, 2015
Doors 9pm / Music 10pm | $7 | 21+
More info: Facebook
The Goodfoot
2845 SE Stark St, Portland, OR 97214
(503) 239-9292
Tezeta Band is the sound of nostalgia and sweaty soulful dance music. It is part jazz, part soul and part ancient Ethiopian melodies blended with the R & B music of the 1960's and 1970's. It comes from a period when the influential sounds of James Brown, Jackie Mittoo and John Coltrane melted together with Ethiopian tradition in the hot clubs and lounges of Addis Ababa.
Tezeta Band's inspiration is the Golden Age of Ethiopian Dance Music that produced legendary Ethiopian musicians such as Tilahoun Gessesse, Mahmoud Ahmed, Seyoum Gebreyes, Alemayehu Eshete, and Mulatu Astatke. These artists combined revolutionary sounds and ideas into a powerful Ethiopian soul sound.
Tezeta Band (pronounced tih-zeh-tah Band) consists of reunited members of Portland's Original all live Hip-Hop crew The Five Fingers of Funk; Talbott Guthrie/drums, Ted Hille/ Saxophone, Tim Cook / Keyboards. Curt Bieker/Trombone & Josh Prewitt/ Trumpet, with the help of Brent Martens (From Asylum Street Spankers, Martens Combination, and Duo Royale), and Bassist John Teagle