From our sponsors: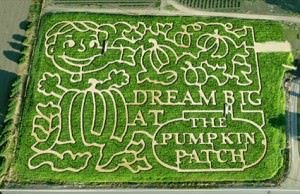 MAiZE Corn Maze
September – October 2015
$5-$7
Tickets: portlandmaze.com
The Pumpkin Patch on Sauvie Island
16511 NW Gillihan Rd Portland, OR 97231
(503) 621-7110
Portland's original cornfield maze celebrates its 17th season at The Pumpkin Patch on beautiful Sauvie Island in Portland, Oregon. The MAiZE with over 2.5 miles of pathways is open now at The Pumpkin Patch, and remains open through November 1st.
The MAiZE has become an annual fall tradition for people near and far looking to challenge their wits in the 5 acre labyrinth of towering corn. Since 1999, The MAiZE, Portland's premier agri-tainment attraction, has confounded over half a million eager explorers.
This seasons' theme is "DREAM BIG" and features a small child grinning ear to ear behind his trophy pumpkin.
The MAiZE staff knows folks have more fun without a map of the maze, but will happily provide a "passport" that holds trivia, which, if answered correctly, will guide maze-goers correctly through the twists, turns, and dead ends. The MAiZE will be offering the usual exciting physical and mental challenges of previous versions, with the unique two-phase layout, which offers an easier warm up to a more challenging second half. Craig Easterly, founder of The MAiZE, encourages everyone to come out and take part in the fun-filled family tradition.
Note: so fare The MAiZE is dry and has mulch on the pathways to control the mud factor, however, if it has been raining before or is raining when you choose to visit, we recommend rain boots or appropriate footwear!
HOURS:
October
Sunday thru Thursday: 10 am to 6 pm* with some exceptions… see below
Friday and Saturday*
October: 2-3, 9-10, 16-17, 23-24, 30-31: 10 am to 10pm
Sunday, Oct. 25th: 10 am to 10 pm
Wed, Oct 28th: 10 am to 10 pm
November
Saturday: 1st 10am to 6pm