From our sponsors: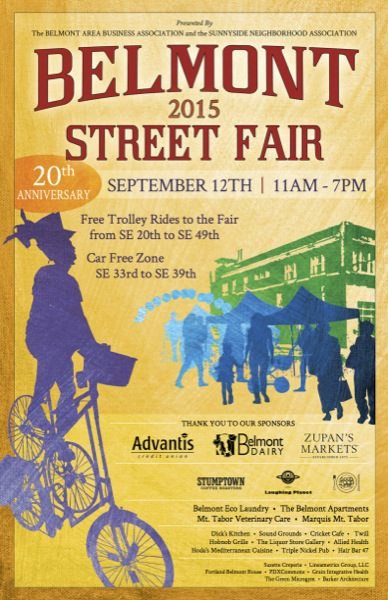 Belmont Street Fair
September 12, 2015
11 a.m. – 7 p.m. | Free | All Ages
More info: belmontdistrict.org
SE Belmont SE 33rd and SE 39th
with Free Trolley Rides between SE 20th and 49th
The 20th Annual Belmont Street Fair is September 12th, 2015 from 11AM to 7PM.
SE Belmont Street from 33rd to 39th will be closed to car traffic and filled with the lively sights that can only be seen on Belmont. The event features live music, beer gardens, over 200 vendors with great food and shopping, an Artist Alley on 34th and kids area with bounce house. The intersection of 34th and Belmont transforms in to our very own grassy 'Central Park' courtesy of the Sunnyside Neighborhood.
Eateries including Laughing Planet, Dick's Kitchen and Suzette Creperie will be extending their seating in to the street. Zupan's Market and the Triple Nickel will both be hosting beer gardens to accompany the live music stages. SE Belmont's great retailers will be on display as well, including Twill, Za Zen and Yarnia.
Free trolley rides will be offered from SE 20th Avenue through SE 48th along SE Belmont St. Take a free ride on the trolley to our amazing food cart pod Good Food Here.
The Fair could not be made possible without the support and sponsorship of our local businesses. Zupan's Markets, Advantis Credit Union and the Belmont Dairy are all major financial supporters of the Fair. Additional support comes from Stumptown Coffee Roasters, Laughing Planet and the Good Food Here Food Cart Pod.
It would also not be made possible without the great volunteer efforts of both the Belmont Area Business Association and the Sunnyside Neighborhood Association.
Please come out and enjoy the sights that can only be seen on SE Belmont Street!