We are giving away a pair of tickets to Vapors of Morphine @ Crystal Ballroom on September 3. To win, comment on this post why you'd like to attend. Winner will be drawn and emailed Monday, August 31.
FREE PORTLAND: We give out 100s of $$$ in free tickets every week including to many of the top music and art venues in Portland. Join our newsletter if you like free stuff!
———————————————
From our sponsors: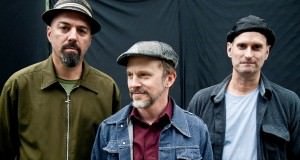 Vapors of Morphine + The Midners
September 3, 2015
9 p.m. Doors, 9:45 p.m. show | $13 ADV, $17 Doors | All Ages
More info: mcmenamins.com
Crystal Ballroom
1332 W Burnside St, Portland, OR 97209
The '90s band Morphine pioneered a new type of music – "Low Rock" – featuring the unusual yet seductive lineup of baritone sax, 2-string slide bass and drums. Morphine burned bright and fast but was snuffed out before it's time. From its ashes have risen Vapors of Morphine.
Vapors of Morphine honors the progressive legacy of its predecessor. Original Morphine members Dana Colley (baritone sax) and Jerome Deupree (drums) are joined by transplanted New Orleans' slide guitarist Jeremy Lyons. They create dreamy soundscapes, applying inventive arrangement to the unique instrumentation of electric baritone saxophone (evocative of Jimi Hendrix' guitar), the Sandman-style 2string slide bass (sometimes electric bouzouki or guitar) and mad drums. Morphine songs are performed alongside psychedelic renditions of West African tunes, noise rock, originals and obscure covers. And it all fits together. Vapors of Morphine leave audiences from Boston to Brazil, New Orleans to the Netherlands wanting more.
The band was officially formed in 2009 to perform a tribute to Mark Sandman in Palestrina, Italy, where Morphine came to an untimely end ten years earlier. Since then the group has released one CD (under their original name "The Ever Expanding Elastic Waste Band"), and a new release is pending. VoM plays selective shows at home and abroad. Highlights have included Mês Da Cultura Independente (São Paulo, Brazil, 2014), The New Orleans Jazz & Heritage Festival (USA, 2012); Virada Cultural Festival in Sao Paulo, Brazil (2012), New Orleans' Voodoo Experience (USA, 2011); and Maquinaria Festival in Santiago, Chile (2011). VoM have appeared at Film Festivals in the US in Chicago, Kansas City, Boston, Salem, Austin,; in Tui, Spain and Amsterdam, Netherlands. All in tandem with screenings of two documentary films, Cure for Pain: the Mark Sandman Story and Morphine "Journey of Dreams" (to which they contributed music).
All three surviving members of Morphine – Dana, Jerome and succeeding drummer Billy Conway – met blues guitarist Jeremy Lyons in September 2005 after he was washed up on Massachusetts' shore from New Orleans after Hurricane Katrina. A personal and musical friendship began. (Besides offering equipment and studio time, Dana got Jeremy a house-painting job.) After informal collaborations prompted Dana to invite Lyons to the gig in Italy, the guitarist had a 2-string slide bass like Sandman's built and began learning much of the Morphine cannon. Meanwhile they continued to develop a trance-blues style and a knack for reinterpreting disparate artists like Brian Eno and Ali Farka Toure, sometimes with the baritone sax taking the role of the bass, and Jeremy on either guitar or electric bouzouki. Jerome Deupree is the band's primary drummer, though Billy Conway has joined the group for some big shows and – along with Boston drummer Jeff Allison – filled in sometime for Deupree during an 18 month health-related absence. (Now he is back!)
Vapors of Morphine is currently recording new music and accepting bookings across the world.
The Minders
The indie pop group, The Minders, was formed in Denver, Colorado in 1995 by Martyn Leaper and Robert Schneider (Apples in Stereo). The Minders started out as a recording project with Robert Schneider producing the first single (Build) which was released in early 1996 on the Elephant 6 imprint. The Minders quickly became a live act, with Joel Richardson on bass, Rebecca Cole (Wild Flag) on drums, and Jeff Almond on lead guitar; a follow- up single (Paper plane) was released later in 1996, and the band quickly gained popularity as a new member of the growing elephant six collective. The Minders would release four singles before delivering their first full length album (Hooray for Tuesday), in 1998 on SpinArt records.
The Minders sound has evolved over the years. From its simple garage origins, the group has grown to incorporate complex arrangements that harken back to the orchestrations of such acts as the Left Banke, and the Zombies, and even though the Minders music is greatly reflective of Sixties pop music, the band has continued to evolve. Since 1998, the Minders have released six more records, each of which tackled different styles in pop and new wave.
The Minders new album "Into the River" (October 2015 release on Space cassette records) Recorded at Jackpot! Studios and Produced by, Larry Crane (Elliot Smith, M.Ward, Go- Betweens) is a return to form after an 8 year absence. Their new single, "It's Gonna Breakout" is a bold lush statement laden with hooks and offers up a taste of things to come from an album that promises to be their best release yet.