From our sponsors: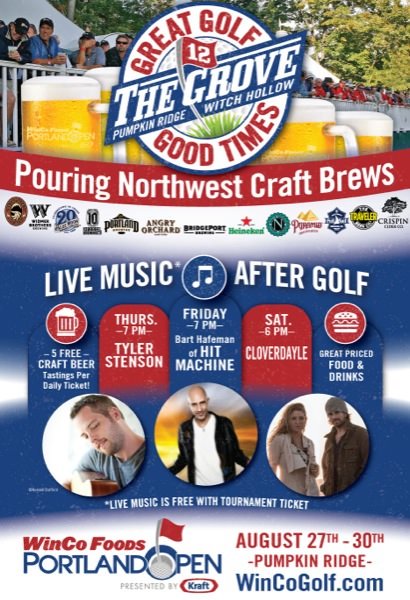 WinCo Foods Portland Open Live Music After Golf
August 27-30, 2015
$15 Daily, $25 4-day Pass
More info: wincogolf.com
Pumpkin Ridge Golf Club
12930 NW Old Pumpkin Ridge Rd, North Plains, OR 97133
The WinCo Foods Portland Open presented by Kraft announced it will host a three-part live music series on-site at Pumpkin Ridge Thursday, Friday, and Saturday evenings at the newly created "The Grove at the 12th Hole."  The Grove will feature a beer garden set alongside the golf action with a stage showcasing local musical acts. Tyler Stenson, a Portland native, will perform on Thursday, August 27th at approximately 7 PM.  Local favorite Bart Hafeman of Hit Machine will take the stage Friday evening, August 28th, and will follow the same schedule as Thursday.  Saturday's live music will feature Portland's famous Cloverdayle duo and will begin at 6:00 PM.
The tournament also announced that The Grove will have ten Northwest craft breweries on-site sampling some of their most delicious beers– Ninkasi, Bridgeport, Deschutes, Widmer, Portland Brewing Company, Pyramid, Full Sail, 10 Barrel, Blue Moon and Crispin Cider.  All WinCo Foods Portland Open ticket holders who are 21-and-older will receive five free craft brew tastings per day upon entrance into the grounds.  Pints will also be served, and there will be special-priced beers for every birdie made by the pros on the adjacent 12th Hole.  A wide variety of food options will also be available.
All WinCo Foods Portland Open ticket holders are granted admission for the live music and beer tastings with their daily or weekly golf ticket.  Daily tickets are $15 and weekly tickets are $25 for all four days. Children 17-and-under are admitted free, and Parking is free all week.  Thanks to the Nabisco TICKETS Fore CHARITY™ program, 100% of all ticket sales support local charities. Tickets are available at www.WinCoGolf.com.
The WinCo Foods Portland Open also announced some of its special events for the week.  Kids Day is Thursday, August 27th and will have activities, games, mascots, prizes and giveaways.  The Nike Golf Junior Clinic will begin Thursday at 2:00 PM, with free lunch for all junior golfers beginning at 1:00 PM.  All junior golfers and their families are encouraged to attend.  Clubs will be provided, so please leave your clubs at home.  There will be a Free Pancake Breakfast at Pumpkin Ridge for all ticket holders on Sunday beginning at 10 AM.
The WinCo Foods Portland Open will be played August 27-30 at Witch Hollow at Pumpkin Ridge, where 156 of the best golfers in the world will compete for 25 PGA TOUR cards to be awarded on Sunday.  For more information, please visit www.WinCoGolf.com.