From our sponsors: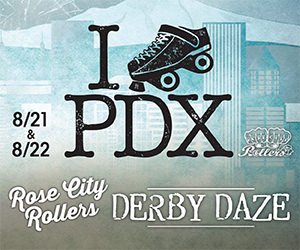 Rose City Rollers
August 21-22, 2015
General $14 / Track side $20 | All Ages
More info: rosecityrollers.com
The Hangar at Oaks Park
7805 SE Oaks Park Way, Portland, OR 97202
(503) 233-5777
Wheels of Justice vs. Men's League Bridgetown Menace Roller Derby
Friday, August 21, Doors 7 p.m. / Bout at 8 pm
Wheels of Justice vs. Bridgetown Menace Roller Derby Bout. The Wheels of Justice is the all-star team of Portland's Rose City Rollers, and the Menace is the all-star team of the Bridgetown Roller Derby – Portland, OR men's league.
This is your last chance to see the Wheels of Justice skate in Portland until next year!
———-
Axles of Annihilation vs. Oakland's Team Gold
Saturday, August 22, Doors open at 7 p.m. Event starts at 8 PM.
Portland's own Axles of Annihilation hosts Oakland California's Team Gold. Both teams are looking to end their respective seasons with a bang!
This is your last chance to see the Axles of Annihilation skate in Portland until next year!
———-
Bid now on two special admission tickets for the super-comfy "Best Seat In The House" Love Seat! Also included are two drink tickets, early entry into The Hangar, and a personal derby tutorial by a member of the Rose City Rollers! The "Best Seat" is located trackside at turn four, right in front of all the action!
Be sure to select the correct event date from the list of available "Best Seats" events. Auction will run for 10 days prior to a bout, ending at 8pm the night before.
Interested in group ticketing for a party of 10 or more? Call 503-963-4400 for group ticketing discounts.
ADA seating available.
Parking at Oaks Park is free for this event
Food and beverage is cash only. There is an ATM located in Oaks Park. No outside drinks are allowed in except sealed water bottles.
This event may be broadcasted live. By reading this, you agree that your voice, image, or likeness may be included in the broadcast, or non-broadcast media, or as part of promotions and marketing for the Rose City Rollers.
No professional grade photography or video recording permitted without prior approval.