From our sponsors: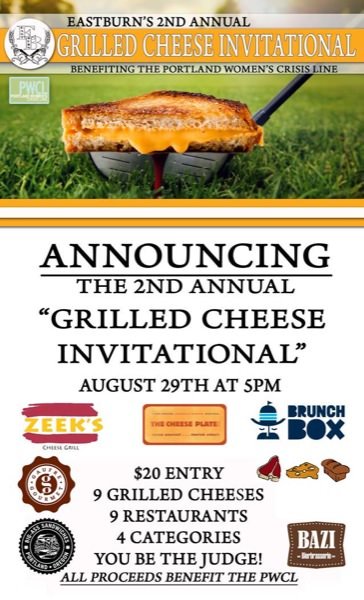 Grilled Cheese Invitational
August 29, 2015
5 p.m. | $20 | All Ages
More info: Facebook
Tickets: showclix.com
EastBurn
1800 E Burnside, Portland, OR 97214
Last year in response to a sexist Yelp review, EastBurn alone rose over $4,500 for the Portland Women's Crisis Line. The month long fundraiser and Grilled Cheese Invitational event was so successful that they are doing it again with hopes to raise even more funds for the PWCL.
All proceeds from the sale of EastBurn grilled cheese sandwiches during the month of August will be donated to the Portland Women's Crisis Line (PWCL). The month long fundraiser culminates with the Grilled Cheese Invitational which is set for August 29th at 5pm. 9 local restaurants will compete to win "Best Grilled Cheese." The invitational will be laid out like a golf course throughout EastBurn with guests receiving a score card to rate grilled cheeses based on Taste, Originality, Presentation and Best Overall. Judging is open to the general public with special guest judges to be announced at the time of the event.
Games and live music will also be included. Tickets for the invitational are $20 with half of that going to the Portland Women's Crisis Line.