From our sponsors: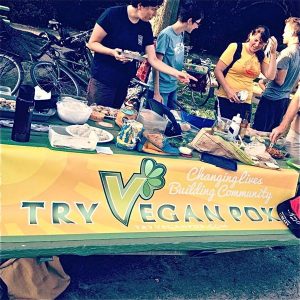 Try Vegan Week 2015
August 15-22, 2014
Most Events are FREE
More info: tryveganpdx.com
Try Vegan Week (TVW) is an annual event that is the foundation of TVPDX. This week long series of events is where TVPDX began. The week includes workshops, speakers, dine-outs, and mentoring. There will be events for vegans, and the vegan curious (vegetarians and omnivores). Invite your friends!
The week concludes with a Vegan Prom, that will include music, photos, costumes, and community.
*All events are free to attend with the exception of Prom which is Try Vegan PDX's biggest annual fundraiser.*
Events
Saturday, August 15th
12:00 – 2:00 PM at Laurelhurst Park, Picnic Site C, corner of SE 37th and SE Oak St
Taste of Summer Vegan Potluck: We are joining Farm Animal Rights Movement (FARM) to help promote their Summer of Saving Animals campaign via this vegan potluck. We want to show our friends and family that traditional summer recipes can include healthy and delicious meat, dairy, and egg alternatives. We are encouraging everyone to bring a non-vegan friend to introduce them to the world of #SavingAnimals and delicious vegan food! For many people, this will be their first time exploring vegan eating, so keep it simple! Try to use familiar ingredients, and remember to bring enough for everyone to try (plan on a dozen servings at minimum).
3:30 – 4:30 pm – Spoke and Leaf Farm, North Plains, OR
Veganic Gardening with help from goats, a pug, and a cat named Mr. Meowgi
Come learn how to start a veganic farm or just create a garden without the use of animal by-products. Bonnie has been vegan 20 years, is a first year farmer, goat rescuer, pug lover, and cat mama. She is happy to be away from the desk, living in a 70s trailer and growing veggies. This is an outdoor event so dress appropriately and wear closed toed shoes. Children are welcome but furry friends need to stay home.
* Meet at Laurelhurst park by the duck pond at 3pm to carpool over or email info@tryveganpdx.com for the address. We will plan to be back in Portland by 6pm.
Sunday, August 16th
1:30 – 2:30pm at Whole Foods Fremont
impacts of animal agriculture on animals, workers, and the environment.
A presentation by Katie Cantrall of Factory Farming Awareness Coalition. Katie is the founder and executive director of the Factory Farming Awareness Coalition. She founded FFAC shortly after graduating from UC Berkeley to educate people about the social justice and ecological hazards of animal agriculture. She has given over 200 presentations on factory farming to venues such as Yale, Stanford, and the Natural Resources Defense Council. Her presentation has been used as a resource by food justice advocates across the country.
3:00 – 4:00pm at Whole Foods Fremont
Benefits of a Plant Based diet
A panel discussion with Karen Debra Messer and Elena Wilkins.
5:30-6:30pm at People's Co-Op
Gluten Free Cooking
Learn the basics of cooking vegan and gluten free with Nancy Sussman. Nancy became vegetarian at age 17 after reading The Jungle by Upton Sinclair.  She told her Texas "meat and potatoes" family she was done eating meat, and that was 34 years ago. She has been vegan for 16 of those years. She is passionate about health and fitness, compassion for animals and being a steward of the planet. She had a successful vegetarian/vegan personal chef business in the 1990's. Although she has returned to a career in mental health, she has continued to create loving, healthy vegan meals for family and friends; and to model a compassionate, vegan lifestyle.  Her focus has shifted to creating delicious, gluten-free, vegan recipes which she is compiling for a cookbook.
Monday, August 17th
6:30- 7:30pm at Living Room Realty NE
Strategies to reach the most people with your message: A talk with Erik Marcus.
Erik publishes Vegan.com and has written several books on veganism.
Tuesday, August 18th
6:30-7:30pm at Belmont Library
Benefits of eating a plant based: A health perspective
Hear from medical professionals about the health benefits of eating vegan. Panel will include Ole Errson MD, Kerri Zemko RN, Jenelle York RD, and Kathy Peterman RN
Wednesday, August 19th
6:30-7:30pm at Living Room Realty NE
Crushing vegan stereotypes
Learn about the types of people who choose to live vegan
Thursday, August 20th
6:30-7:30 pm at Whole Foods Fremont
Identity, Status, and Privilege in Vegan and Animal Rights Movements
This session provides an interactive workshop for participants to explore inequality as it relates to them personally in their interactions with the community.  This will be a candid and nuanced examination of some of the ways that inequity is perpetuated in society, and offers attendees an opportunity to think about how to overcome them.
Friday, August 21st
6:30-7:30pm at Living Room Realty NE
Vegan Culture: Where race, history, and veganism meet.
A discussion about the experience and influence of people of color, covering cultural backgrounds, vegan/veggie food staples of certain regions, and a brief history of food culture and how it relates to our  identity.
Saturday, August 22nd
1:30 – 2:30 at Belmont Library
Using Non-Violent Communication tools for effective vegan communication and advocacy
Maren Souders was born and raised in northern Virginia, and moved to Portland in 1990 to begin a new life. After earning a degree in psychology at Lewis and Clark College, she shifted gears and began doing political activism. Years later, her deep love of empathy and her ever-present fascination with the human condition inspired her to combine these passions, and she founded Dream Into Change, a practice in which she offers emotional and strategic support to clients and followers to help them live consciously and bring about tangible change in the world.
3:00-4:00 at Belmont Library
Simplifying Your Footprint – How being vegan and eco-conscious go together and ways to reduce your carbon footprint, trash and waste
7:30pm-10pm at Peninsula Park Community Center
Enchantment Under the Sea Vegan Prom (inspired by Back to the Future)
Come celebrate the end of the 8th annual Try Vegan Week for a night of dancing, raffles, food, and fun! Costumes or dress in theme encouraged, but not required. There will be contests with the awesome prizes you've come to expect from Try Vegan PDX events, and a raffle! Click HERE for Tickets

*Advance ticket sales for Vegan Prom will close Friday, August 21st at 5pm. *
10:30pm – 2am at Killingsworth Dynasty
After Party
Not ready to call it a night? Want to celebrate the week more and hang out with the cool people you have met just a little bit longer? Maybe you just like bars and wanna hang with some interesting people who will be in costume. Join us for the late night after party that wraps up Try Vegan Week 2015!