From our sponsors: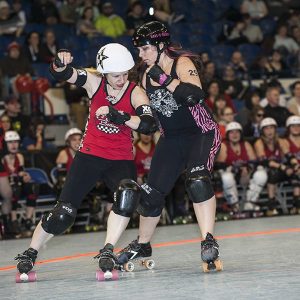 Free Roller Derby Showcase in Pioneer Square
August 11, 2015
Noon – 1 p.m. | Free | All Ages
More info: Facebook
Pioneer Courthouse Square
701 SW 6th Ave, Portland, OR 97204
(503) 223-1613
The Rose City Rollers (RCR) are excited to treat Portlanders to a free roller derby spectacle and information session during their lunch break tomorrow. Portland's favorite eight-wheeled non-profit will take to the track in Pioneer Square as part of Noon Tunes, brought to you by Kink FM and the Oregonian Media Group.
The Rollers will host a 40-minute scrimmage with a mix of skaters from a variety of RCR teams. Spectators will not only get to watch the action and learn about the sport, they can pick up info on how to get involved as a skater, volunteer, or supporter.
About Rose City Rollers:
The Rose City Rollers develop women of attitude, athleticism and passion to play a hard-hitting sport of speed and skill. As pioneers in the rebirth of roller derby, RCR continues to foster its growth. The league's goals are to serve our community by empowering women and girls, providing entertainment for our fans and supporting charitable causes. (We are a 501(c)(3) non-profit, formed in 2004, and a founding member of the Women's Flat Track Derby Association) . . . and that's just the beginning.