Portland Adult Soapbox Derby • 35 Hotdog Millionaire | Photo by victorvonsalza
The 2015 Portland Adult Soap Box Derby is this weekend at Mount Tabor Park. It is a huge event that everyone should check out at least once. Over 5,000 people attended last year. It's free to attend, and you are allowed to bring beer, wine, and food (no hard alcohol). There will be some food vendors out there as well. Below is the info, spectator map, and crash videos from years past!
——————-
Related Portland Events and Giveaways:
————————————————
2015 Portland Adult Soapbox Derby Info, Spectator Map, Crash Videos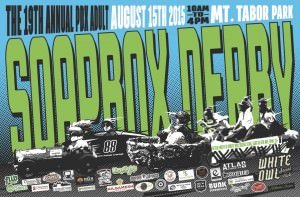 Portland Adult Soap Box Derby
August 15, 2015 | 10AM-4PM
Updates: soapboxracer.com
Mt Tabor Park
SE Portland, Oregon
Every year since 1997, Portland's finest freaks have pulled their home built creations to the top of Mount Tabor and let gravity guide them to the bottom of the hill.
The PDX Adult Soap Box Derby continues a beloved summertime tradition at Mt. Tabor Park—a community event that draws crowds of 7,000-10,000 people to watch a colorful and sidesplitting spectacle of 40+ coaster cars powered only by gravity, whimsy, and attitude. Camaraderie abounds as some teams focus on speed and engineering (Science!). Some on crowd pleasing or simply shit talk (Art!) and still others find a place in between. It's a perfect day for a picnic!
The teams coast down the course three times before the championship rounds. Winners receive awards for speed, engineering, art, crowd pleasure and many other categories at the end of the day. The competition makes for an exciting day enjoyed by spectators of all ages who are invited to get comfortable and enjoy the race at no admission cost.
———————-
Top 3 frequently asked questions
Q: When and where is the next derby? A: Saturday, August 16 2015. Mt. Tabor Park. 10 AM – 4 PM
Q: How can I become a racer in the derby? A: Familiarize yourself with the updated racer packet, If you would like to be added the the racer mailing list for next years announcements contact us.
Q: How do I sponsor the upcoming derby A: Contact us for details. Note: We do have a couple areas that could be set up with crash barriers in some prime viewing areas on the course for your own VIP party.
———————-
Derby Schedule
———————————————————————
2013 Video Highlights
———-–————————————–————————————
Portland Soapbox Derby Crash Videos

Portland Adult Soap Box Derby
Mount Tabor Park
Portland, Oregon
Filmed by brewcaster
Music: 'Frenzy' By: Locust Avenue
You are likely to see a few more crashes this year and NW Sports Guy explains why…
From NW Sports Guy (more videos & pictures on his site here):
In addition to poor construction, the vehicles most likely to crash have 1) poorly secured bicycle wheels 2) a high center of gravity and 3) high occupancy. Add in alcohol, a steep down grade and spectators throwing water balloons, and you get the perfect storm for destruction. In the above video, you can hear a water balloon impact against the soap box car, causing it to swerve and lose control. The spectator in the video wound up with a broken nose and was taken to the hospital. Good times had by all.
———————————
Portland Adult Soapbox Derby Crash 2009
Video by chadrickash
Description: The tiger themed car crashes into a spectator – Sparked by a water balloon from the crowd that forced the vehicle to lose control.
AND
Tiger Car Soapbox Derby Crash
Video by speedthrills36
Description: An alternate angle view of the Tiger Car that crashed into the crowd and broke the nose of that unfortunate spectator at the Portland Adult Soapbox Derby. You can see and hear the water balloons that hit the car and caused it to lose control. August 22, 2009.
2010 Flickr Slideshow
——————————
More Portland Soapbox Derby Photos:
———-–————————————–————————————
Our Portland Events App for PDX Pipeline is now available for iPhones, Android phones and iPads!
Now, you can have all of the great Portland events info from our website in the palm of your hand when you're out on the town.
–————————————
—————————————————–