From our sponsors: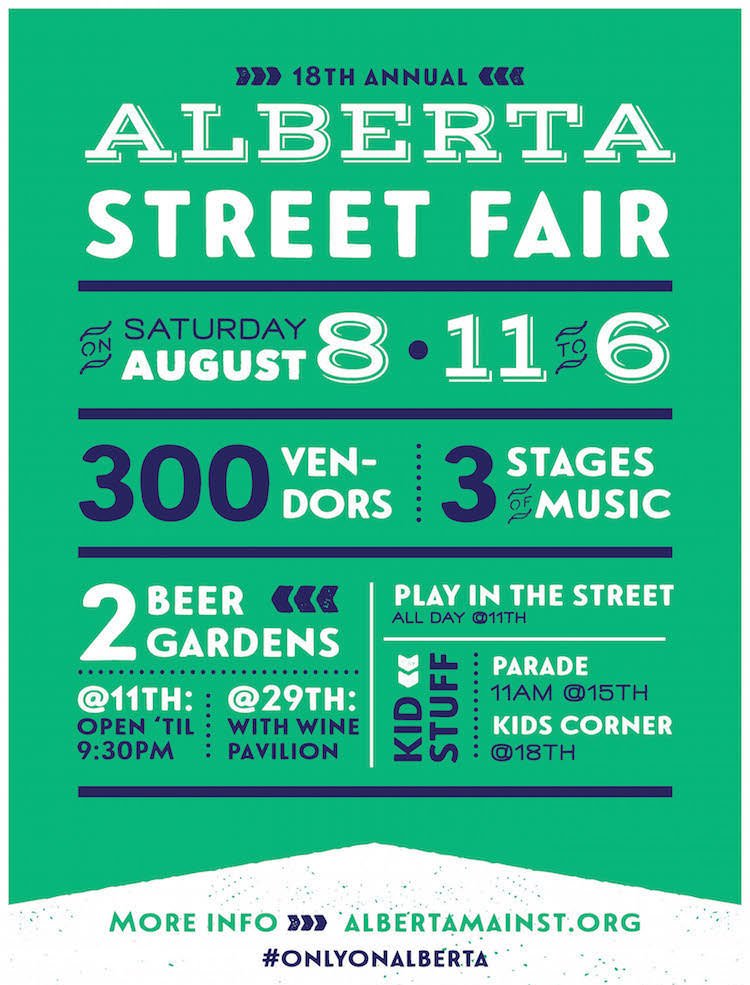 Portland's 2015 Alberta Street Fair
August 8, 2015
11 a.m. – 6 p.m. | FREE | All Ages
More info: albertamainst.org
NE Alberta Street between NE 11th – 30th Avenues
Fun, funky and family friendly: the 18th Annual Alberta Street Fair is Saturday, August 8, 2015, and will offer up an eclectic mix of activities and events that can only be found on Alberta Street.
The Alberta Street Fair will be held from 11 a.m. to 9:30 p.m. on Saturday, August 8, 2015. Showcasing the best of the Alberta Street community, the event features entertainment, music, vendors and food and drink for people of all ages. Hosted by Alberta Main Street, the event continues to be one of Portland's most beloved neighborhood street festivals, drawing more than 25,000 people annually.
The fair will kick off with the Fifth Annual Children's Parade, starting at 11 a.m. at NE 15th Ave. and ending at the Center Stage at NE 21st Ave. Children who would like to participate in the parade are invited to show up in their costumes at 10:30 a.m. at the Alberta Co-op parking lot at NE 15th Ave. PDX Kids Calendar and Whole Foods Market will be co-hosting the Kid's Activity Corner at NE 18th Ave. all day, providing crafty fun and entertainment for children of all ages.
Event highlights include:
Shopping: Unique products and crafts from Alberta Street businesses and 300 vendors lining NE Alberta Street between NE 11th Ave. and NE 30th Ave. from 11 a.m. to 6 p.m.
Sampling: Two family friendly beer gardens featuring local breweries (at NE 11th & 29th) and new this year a wine tasting pavilion between NE 29 – 30th Ave featuring PDX Urban Wineries. Everyone is welcome!
Eating: Food and beverages from Alberta's well-known eateries, food carts and Street Fair vendors.
Dancing: Three stages of entertainment located at NE 11th Ave., 21st Ave. and 30th Ave.  Visit albertamainst.org/whats-happening/street-fair/stages/ for the full lineup.
Playing: Come "Play in The Street!" All day activities and demonstrations at NE 11th Ave.
Get involved—volunteer at the Alberta Street Fair! Alberta Main Street seeks volunteers to help make the event a smashing success. We couldn't do it without you. There are many volunteer opportunities so you're sure to find one perfect for your interests. In addition to helping put on a great community event, you get a super cool t-shirt and a ticket for a beer in the beer garden (of course, only if you are over 21). Additionally, you will be invited to our volunteer appreciation party in September. Most volunteer shifts are 3-hours long. Sign up for a shift today and tell your friends! Sign up here: albertamainst.org/whats-happening/street-fair/volunteers/.
The Alberta Street Fair is a free community event held annually on the second Saturday of August. A suggested $2 donation supports building a vibrant and healthy Alberta Street. Donations are accepted at the info booth (1722 NE Alberta Street) and the beer garden. Please consider walking, biking or taking public transportation to The Alberta Street Fair. Extra bike parking lots will be provided.

About Alberta Main Street: Alberta Main Street advances efforts to develop Alberta Street as a vibrant, creative, equitable and sustainable commercial district serving residents and visitors to our community.