From our sponsors: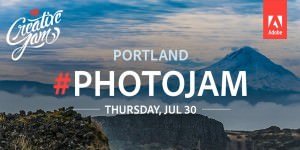 Photo Jam
July 30, 2015
Doors 7 p.m.. Starts at 8 p.m. | Free
More info: nvite.com/PhotoJam/portjam
Left Bank Annex
240 N Broadway, Portland, OR 97227
Announcing Photo Jam Portland, a celebration of creativity and photography that's part presentation and part competition, on Thursday, July 30 from 7:00-10:00pm at Left Bank Annex.
In late 2013 Adobe senior Creative Cloud evangelist Michael Chaize hosted an event that was part gathering, part challenge and part presentation and called it Creative Jam. Held in Adobe's Paris office, the event was a four-hour-long combination of tournament and showcase and get-together during which fifteen teams of designers took on a creative challenge while, in an adjacent room, local designers shared stories and insights about projects and process.   A year later the first photograph focused event was held in Miami, FL, Photo Jam Miami.
Said Michael of his goal, "I wanted to create a space for designers and photographers to meet and work together, but the event is also an open stage for local talents to share their creative process. It's an event for creative people, designed by creative people."
The next stop was North America. In January, we held our first North American Creative Jam in San Francisco. Moderated by evangelist Paul Trani, it consisted of six pairs of designers challenged by a single theme; presentations by designers Brian Yap and Joshua Davis, and illustrator Aggie Tsz Yan Cheung; and lots of food, chatter and creative camaraderie.
Since their beginning in Paris, Creative Jams have been held in Atlanta, Austin, Chicago, New Orleans, San Diego, Toronto; upcoming cities include Denver, Minneapolis, Nashville, and St. Louis.
As part of a unique, two-part (creation and presentation) photography event, photographers compete against each other.  Fifteen to twenty selected photographers are notified of the photo assignment in the morning, they go out and shoot it however they envision it and then come in that evening to post process their shots.
Past themes include: "Get to Know your Neighborhood." After several hours and no rules, the photographers present their work to an audience and jury who chooses a winning team. The prizes? A trophy, a free year of Creative Cloud and, of course, bragging rights.
Gabrielle Paciorek, director of photography at Gabrielle Paciorek Photography and a competitor in San Diego,recalled her participation: "It tapped into that primal urge to create that I had as a kid. When I didn't second guess or overthink my work, I just created. It was freeing and scary, and I loved it."
We're looking forward to some friendly competition between Photo Jam Portland participants Bubba Sellar, Jeremy Pair, Everett Bouwer, Jessica Selig, Robert Woodward, Margaret Jacobsen, Jacob Hinmon, Chad Lanning, Lexia Frank, Justin Myers, Anthony Georgis, Gia Goodrich, Leah Nash, Chris Hornbecker, Elijah Hasan, Nolan Calisch, and Ayaka Terakawa
And while the competition is in full swing, attendees will get a chance to hear stories and insights about projects and process from local speakers: Holly Andres, Branden Harvey, Nicolle Clemetson, and David Emmite
There's always food and drink at Photo Jam!