From our sponsors: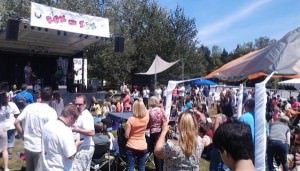 2015 Rox in Sox
August 1, 2015
10 a.m. – 3 p.m. | Free (Donations Accepted) | All Ages
More info: roxinsox.org
King School Park
4906 NE 6th Street
Rox in Sox, the Portland area's festival of children's music and reading, will host its third annual event at a new location – King School Park at 4906 NE 6th Street (off Alberta) in Portland, on Saturday, August 1, 10 am to 3 pm. The lineup of live music, author readings and other festivities is growing now at www.roxinsox.org.
Admission is free with a donation of new shoes, socks or books for kids in need. Local and touring family music artists, plus several authors will join the day of fun in the park. A few vendor spots remain open for this year's festival. The complete Portland event lineup and more information about the festival is available at www.roxinsox.org.
Last year's Rox in Sox attracted more than 1,400 people. Over the past two years, festival volunteers collected more than 2,000 pairs of socks, hundreds of pairs of shoes and more than 900 books, all of which have been distributed to children in Oregon, Jamaica and Kenya.
Supported by the Oregon Community Foundation and presented by 1World Chorus, Rox in Sox will offer kids and parents a day of family-friendly entertainment, activities and summery refreshments. Metro Parent magazine and PDX Kids Calendar are the parenting media sponsors of this year's festival. Rox in Sox is expanding: the festival launched in Las Vegas in April, and plans are underway for other cities. Portland Parks and Recreation, Portland Police Bureau, Home Depot and Keen Footwear and the Boys and Girls Club of Portland are sponsors.
Portland retailer Green Bean Books will curate and present children's book authors and illustrators reading and talking with kids about their works, including Cathy Camper, Jennifer Coughlin and Valarie Pearce.
This year's musical guests will include local artists Aaron Nigel Smith and his 1World Chorus as well as Pointed Man Band. Grammy Award nominated duo The Pop Ups will perform their interactive electro-pop and puppetry show, and San Francisco's award-winning hip-hop trio The AlphabetRockers will also perform.
Rox in Sox director Aaron Nigel Smith is a musician and educator whose simple mission is to inspire families to sing, dance and play together. He's been featured on PBS-TV's "Between the Lions," and has won numerous awards and tours nationally. His One World Chorus blends the voices of hundreds of young singers from Portland, New York, Los Angeles, Kenya and Jamaica. "We're thrilled to present this major festival at a Portland park this year," he says.