From our sponsors: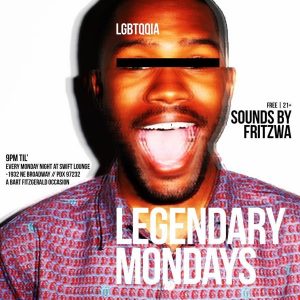 Legendary Mondays
Mondays at 9 p.m.
Free | 21+
More Info: swiftloungepdx.com | Facebook
Swift Lounge
1932 Northeast Broadway Street Portland, OR 97232
(503) 288-3333
Portland's all new weekly Monday night party for LGBTQQIA and everybody in between! Let's turn up, connect, get wasted on mason jars and have an extended weekend. Every Monday night at 9PM at your favorite spot, Swift Lounge!
LEGENDARY MONDAYS celebrating the freedom of sexual expression no matter what it be. get your vibe squad mobbin' head nods with BART FITZGERALD ….as always….FREE. who-ah homie.
LGBTQQIA night with DJ RONIN ROC
The party pops outside on the front 'patio' and inside on the "dance floor". Outside, please keep your alcoholic beverages on the tables and be considerate of our neighbors after 10:30 PM.