We are giving away a pair of tickets to Top Down Rooftop Cinema Opening Night Song of the Thin Man on July 16. To win, comment on this post why you'd like to attend. Winner will be drawn and emailed Monday, July 13.
FREE PORTLAND: We give out 100s of $$$ in free tickets every week including to many of the top music and art venues in Portland. Join our newsletter if you like free stuff!
———————————————
From our sponsors: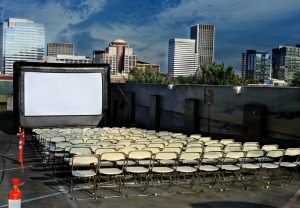 Top Down: Rooftop Cinema
Thursdays, July 16-August 27, 2015
Doors 7 p.m., Show 8 p.m. | $9 General / $8 Students | All Ages
Tickets/More info: nwfilm.org
Hotel deLuxe
729 SW 15th Ave Portland, OR 97205
(503) 219-2094
Join us atop the Hotel deLuxe's parking structure at SW 15th and Yamhill for our 11th annual program of cinema under the stars. Doors open at 7 PM with food and beverages available for purchase from select food carts and Sierra Nevada Brewing Company. Music begins at 8 PM and films begin around dusk.
Entry for advance ticket holders is guaranteed until 8:30 PM. Advance tickets ensure that you will not have to wait in the ticket purchase line but do not guarantee entry after 8:30 PM. A limited number of chairs are available on a first-come, first-served basis, so feel free to bring a chair, pillow, or blanket, along with a light sweater or jacket. Advance ticket holders who arrive after 8:30 PM but are not admitted to the screening (in the case of a sell-out) may exchange their tickets for another Top Down screening. There are no refunds or exchanges for arrivals after the film begins (c. 9 PM) or for entirely missed screenings. We appreciate your understanding. Please, no pets or outside food or drink.
Thanks to our sponsors: Hotel deLuxe, Peter Corvallis Productions, Sierra Nevada Brewing Company, Portland Mercury, Yelp! Portland, KIND Healthy Snacks, PDX Pipeline, Artslandia and 94/7 FM KNRK.
Advance tickets are available at nwfilm.org: $9 general; $8 student/senior/Portland Art Museum member; $6 Silver Screen Club Friend.
Tickets at the door are $11 general; $10 student/senior/PAM member; $8 Silver Screen Club Friend.
Thu, Jul 16, 2015
at 8 PM

SONG OF THE THIN MAN

DIRECTOR: EDWARD BUZZELL
US, 1947
The last of the six classic THIN MAN films pairs William Powell as Nick Charles—the nattiest ex-cop you'll ever meet—and the inimitable Myrna Loy as Nora, his wry urbane socialite wife. The story begins with a murder on a yacht and leads the crime-fighting couple through Manhattan jazz clubs offering them plenty of cocktails and hep-cat lingo along the way. Sure, a few people get murdered, but it's all so very stylish and civilized. (86 mins.)

PDX Pop Now! presents live music from Malachi Graham at 8pm

Thu, Jul 23, 2015
at 8 PM

SEXY BEAST

DIRECTOR: JONATHAN GLAZER
UK/SPAIN, 2000
Famed music video director (Radiohead, Blur) Jonathan Glazer's first feature updates the classic heist film with equal doses of sharp comedy and chilling menace. Gal (Ray Winstone), a London gangster retired to the south of Spain with his porn star wife and pool boy, is reluctantly pulled back into a life of crime by his old mentor, Don Logan (Ben Kingsley), a frighteningly and hilariously unhinged maniac. "Spouting profanity, staring daggers at any perceived enemy, and talking nuts to himself in a mirror like De Niro in a Cockney TAXI DRIVER, Kingsley creates an unforgettable monster."—Rolling Stone. (89 mins.)

Featuring XRAY DJs Aaron and Cheyenne from Reverse Couples Skate

Thu, Jul 30, 2015
at 8 PM

THE 10TH VICTIM

DIRECTOR: ELIO PETRI
ITALY/FRANCE, 1965
"Petri's black comedy imagines the hunting of humans as a government-sanctioned, globally televised sport, a gladiatorial combat meant to relieve tension and settle conflicts in an otherwise anesthetized world devoted to mindless consumption. THE 10TH VICTIM amusingly remains a classic 'commedia all'italiana' of the 1960s, with Marcello Mastroianni in his archetypical role as the castrated Casanova struggling to maintain his inbred macho poise as he is assaulted not only by Ursula Andress's gun-toting Amazon, but by a mercenary wife (Luce Bonifassy) and an impatient mistress (Elsa Martinelli), who have joined forces against him."—The New York Times. (92 mins.)

Featuring XRAY DJs DDDJJJ666 from Hipsters Suck and Magnolia Bouvier from Vampirella in Iridescent Teal

Thu, Aug 6, 2015
at 8 PM

WOMEN ON THE VERGE OF A NERVOUS BREAKDOWN

DIRECTOR: PEDRO ALMÓDOVAR
SPAIN, 1988
The film that made the director an international cinema icon, WOMEN—in typical Almodóvar style—weaves an array of colorful characters into a single, manic-depressive symphony. Carmen Maura highlights as the heroine Pepa, a TV star heartbroken by her lover Ivan (Fernando Guillén), and desperate to find her bearings. "Gorging on the bad, bad world of TV soap operas, tabloid news, and those Roy Lichtenstein cartoons where anguished women lament their lives with 'Brad', Almodovar gets a wonderful rise out of life's lows."—Washington Post. (90 mins.)

Featuring XRAY DJ Serious Moonlight from Intuitive Navigation

Thu, Aug 13, 2015
at 8 PM

ROCK 'N' ROLL HIGH SCHOOL

DIRECTOR: ALLAN ARKUSH
US, 1979
When Principal Togar tries to confiscate ex-cheerleader and aspiring songwriter Riff Randall's (P.J. Soles) ticket to the upcoming Ramones concert and burn their records, the students enlist the Ramones in a punk-style coup. With rollicking performances by the Ramones and a wall-to-wall soundtrack that includes Chuck Berry, Devo, Alice Cooper, Fleetwood Mack, Nick Lowe, and more, B-movie master Roger Corman's spoof of 50's musicals and ode to personal freedom still rocks. (93 mins.)

PDX Pop Now! presents live music from The Bugs at 8pm

Thu, Aug 20, 2015
at 8 PM

STRANGERS ON A TRAIN

DIRECTOR: ALFRED HITCHCOCK
US, 1951
Tennis pro Guy Haines is in a bad marriage when he's approached by a perfect stranger, Bruno (Robert Walker), who idly contemplates the perfect murder. Bruno speculates that if he gets Guy's wife out of the way, then Guy could take care of Bruno's untenable father and each could have an alibi for the murder they'd be suspected of and no discernable motive for the crime they committed. "Bruno's manner is pushy and insinuating, with homoerotic undertones . . . not a psychological study, however, but a first-rate thriller with odd little kinks now and then."—Roger Ebert. (101 mins.)

Featuring XRAY DJ Eldorado from Ballin' the Jack

Thu, Aug 27, 2015
at 8 PM

MONTY PYTHON'S THE MEANING OF LIFE

DIRECTOR: TERRY JONES, TERRY GILLIAM
UK, 1983
With something to offend most any sensibility, the comedy troupe of Monty Python offers this comprehensive and nonsensical guide to life—from birth to death. Filled with uproariously funny sketches and songs, the film is a grab bag of outrageous contemplations of the absurdity of life where everything is over the top and nothing is sacred …well, perhaps one thing. (107 mins.)


PDX Pop Now! presents live music from Ah God at 8pm