From our sponsors: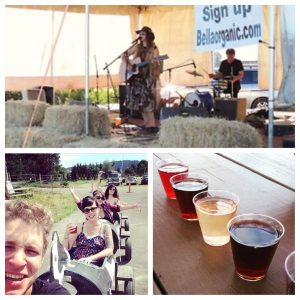 Sounds & Tastes of the Farm
Saturdays, July 4-August 22, 2015
5-8 p.m.
More info: bellaorganic.com
Bella Organic Pumpkin Patch & Winery
Sauvie Island, 16205 NW Gillihan Rd.,Portland, OR 97231
Come visit Bella Organic on Sauvie Island for Live Music and Fun on the Farm!
Their Sounds & Tastes of the Farm Events are EVERY Saturday from 5pm to 8pm – July 4th through August 22nd, 2015!
The farm is the place for families to meet, share the bounty, enjoy nature and yes, listen to local sounds by local artists. Bella Organic Farm will be hosting a Harvest Festival with live music every Saturday! Come enjoy live music under the sun, in their courtyard, sit on a bale of hay, eat some delicious farm fresh food, savor some Bella Organic Wine, Hard Cider or Hopworks beer, pick some amazing produce from the field or straight from our Organic produce market, don't forget to visit our farm animals, or take a grain train tour around the farm! There's never a dull moment at Bella Organic Pumpkin Patch & Winery!