From our sponsors: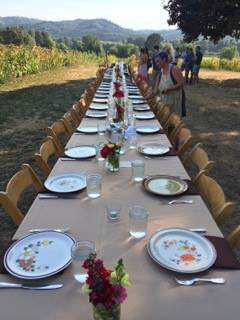 Farm to Plate Dinners
Fridays & Saturdays July 10 – August 30, 2015
$65 | 6 p.m.
More info: krugersfarm.com
Kruger's Farm Market
17100 NW Sauvie Island Rd
Portland, Oregon
Kruger's Farm celebrates summer with a series of intimate farm to plate meals of fresh ingredients from the farm. Each day the farm chef picks the freshest produce from this 150-acre working farm and prepares a delicious four-course meal. That evening the guests sit down under a 200-year-old oak tree to a delicious dinner that celebrates truly local Northwest cuisine. These family-style dinners will be served al fresco every Friday and Saturday evening from July 10th through August 29th at Kruger's Farm on Sauvie Island. Hayrides around the farm and an informational talk from Farmer Don Kruger complete the farm experience. The meals are $65 per person. Wine is not included, but will be available for purchase at the dinner. To view menu details or make reservation visit Kruger's Farm website at www.krugersfarm.com.
Dine Al Fresco under the Farm's 200-year-old oak tree.
Eat deliciously prepared and sustainably grown farm food.
Enjoy the lovely pastoral setting.
Groups of 10 or more can be seated at a private table.
Contact the farm about hosting a private dinners for 20 or more.
About Kruger's Farm
Kruger's Farm is a working 150-acre farm that features a produce market with vegetables and fruit hand-picked every day, u-cut flowers, u-pick produce and picnic areas. Kruger's Farm also carries canning supplies and features a retail section with market baskets from Ghana, sun hats and children's garden items. For more information, please visit www.krugersfarm.com or call 503-621-3489. The farm is open daily from 9 a.m. to 9 p.m.
Directions to Kruger's Farm Market: Take Highway 30 north past Linnton to the Sauvie Island Bridge. Cross the bridge, proceed north approximately 1 mile on Sauvie Island Road and turn right into Kruger's Farm Market.