We are giving away tickets for a party of 5 to Filmistan Bollywood Party @ The Secret Society on June 12. To win, comment on this post why you'd like to attend. Winner will be drawn and emailed Friday, June 12.
FREE PORTLAND: We give out 100s of $$$ in free tickets every week including to many of the top music and art venues in Portland. Join our newsletter if you like free stuff!
———————————————
From our sponsors: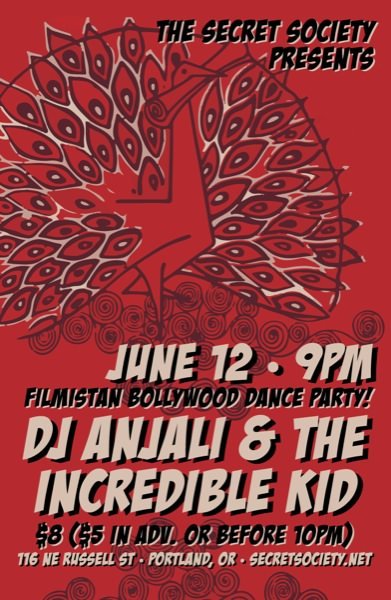 Filmistan : Portland's Original All-Bollywood Dance Party (est. 2008)
June 12, 2015
$8 ($5 before 10 p.m.), $5 ADV | 21+
Tickets: ticketfly.com
The Secret Society
116 NE Russell St, Portland, OR 97212
(503) 493-3600
Despite rocking Portland dance floors for more than 14 years with Bollywood selections, it was not until 2008 that DJ Anjali & The Incredible Kid founded a party devoted exclusively to Hindi film songs. Bollywood film music is the one music that unites all of South Asia, and increasingly, the world. Hindi-language film songs are the only Indian songs whose popularity crosses every state and national border in South Asia, and from Russia to Africa, South America to China, Bollywood's reach and popularity continue to grow.
Portlanders can now get their Bollywood fix through Netflix, or through the occasional new release screened at Century Clackamas Town Center. For those new to Bollywood, or lifetime filmi lovers, Filmistan is the one party where Portlanders can get an unadulterated taste of Anjali & The Kid's favorite Bollywood dance floor Molotovs.
With a Bollywood soundtrack collection that includes the results of many hours spent in Mumbai's Chor Bazaar, and the purchase of some amazing private collections, who knows what might end up on the duo's platters? From vintage Bollywood rock'n'roll, to Bollywood funk and disco, up to today's pastiches of techno, hip-hop, and moombahton, it's all in the mix at Filmistan.
DJ ANJALI AND THE INCREDIBLE KID
DJ Anjali and The Incredible Kid have spent more than a decade igniting dance floors with cutting edge music not limited by borders or language. They host the longest-running Bhangra and Bollywood party on the West Coast, co-founded the Pacific Northwest's first Global Bass dance party and host two weekly radio shows onXRAY.FM and KBOO.FM. Few DJs can be said to have changed the sound of their city but that is exactly what DJ Anjali and The Incredible Kid have accomplished since they first introduced Portland, Oregon nightclub audiences to the many varied sounds of Global Bass at a raucous New Year's Eve debut in 2000. They are most known for incinerating dance floors with the heavy dance floor artillery of South Asia, but the duo scour the globe for any hard-hitting music that combines local music traditions with window-rattling production. Anjali and The Kid regularly perform at festivals including five sets at the Sasquatch! Music Festival tenth anniversary where they headlined the dance tent opening night. They have performed at festivals such as Decibel, MusicfestNW, Vancouver International Bhangra Celebration, Beloved, Photosynthesis, Fairytale and Kaleidoscope and the Vancouver Queer Film Festival. The duo travel to perform in cities such as New York City, Chicago, Washington DC, San Francisco and Vancouver, BC to headline parties such as Basement Bhangra, iBomba, Bhangrateque, Ottomania and Non Stop Bhangra.
After making a name for themselves in their hometown's raucous house party circuit, DJ Anjali & The Incredible Kid introduced the Portland, Oregon nightclub scene to the sounds of Bhangra, Bollywood and Global Bass on New Year's Eve 2000. A series of residencies followed, beginning with a night at the legendary Blackbird, and the duo began hosting their ANDAZ dance parties in July of 2002. The party's focus on hardcore Panjabi Bhangra and the latest electronic confections from the Bollywood film industry continue to pack the dance floor after 12 years. While ANDAZ was still in the bloom of youth, Anjali and The Kid founded the revolutionary dance night ATLAS (with co-host/DJ E3) at Holocene in November of 2003 to introduce Portland to Global Bass sounds such as: Balkan Beats, Reggaeton, Funk Carioca, 3Ball Guarachero, Digital Cumbia, Urban Desi, French and Arabic Hip-Hop, Rai N B, Reggada, Dembow, Dubstep, Kuduro, Merengue Urbano and a host of other local and diasporic future musics. ATLAS was a vital party in Portland nightlife and the Global Bass scene internationally for more than nine years and remains the longest-running night in Holocene's history. In 2013 Anjali and The Kid initiated TROPITAAL: A Desi Latino Soundclash, their latest project.
hey have supported artists as diverse as Digable Planets, Balkan Beat Box, Major Lazer, Skrillex, A Tribe Called Red, DJ Spooky, Tigerstyle, Boban i Marco Markovic Orkestar, Delhi 2 Dublin, Sleigh Bells, Glitch Mob, State of Bengal, MSTRKRFT, Karsh Kale, DJ Rekha, CeU, Antibalas, Dengue Fever, Blockhead, Soulico, The Decemberists, Rupa & the April Fishes, Gold Panda, DJ Marcelinho Da Lua, Saini Surinder, Washed Out, Toy Selectah, Pink Martini, Quantic, Opiuo, Bonobo, Extra Golden, Maga Bo, Poirier, Plastician, Flying Lotus, Ming & FS, Joro-Boro, Kultur Shock, Ghostland Observatory, J-Boogie, and Nickodemus from Turntables on the Hudson.
"Known for bringing cutting-edge music to virgin ears, they are guaranteed to throw you a good time" -Eleven PDX Magazine December 2013"Maybe the Portland area's most well-known deejays." The Portland Tribune 1/26/12"People were talking about all weekend: DJ Anjali & The Incredible Kid–playing every, SINGLE day (the only performers to do so), the Portland duo was the must-not-miss Bollywood/bhangra dance party makers of the weekend." (Sasquatch! Festival 2011) Oregon Music News 5/31/11"Celebrate our local heroes as they hold down the biggest rock fest in the Northwest" (Sasquatch! Festival 2011) The Portland Mercury 5/26/11"DJ Anjali and the Incredible Kid sets are one of Portland's great recurring dance parties." Willamette Week 12/16/09"Portland's favorite boy/girl DJ pair" The Oregonian 6/19/09