From our sponsors: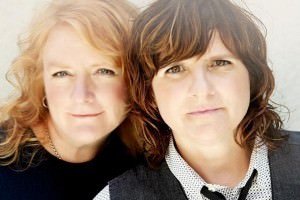 Indigo Girls w/ Caroline Aiken
July 11, 2015
Doors 5 p.m. / Show 7 p.m. | $39-74 | All Ages
Tickets: zooconcerts.com
Oregon Zoo Summer Concerts
4001 SW Canyon Rd, Portland, OR 97221
(503) 226-1561
Oregon Zoo Summer Concerts are presented by the Oregon College Savings Plan and Banfield Pet Hospital.
Each ticket purchased will come with a free download of Indigo Girls' new album One Lost Day.
Decades into their career, the Indigo Girls still amaze conventional pundits with their ability to grow and thrive no matter what the state of the music industry is at any given point. Saliers and Ray began performing together in high school, transferred their honest, urgent performing style onto the stages of countless small clubs, then saw their public profile take off with the 1989 release of their self-titled breakthrough (an album that included the first hit, "Closer To Fine," and went on to win Best Contemporary Folk Recording at the 1990 Grammys).
The duo's constant touring, as well as staunch dedication to a number of social and environmental causes, has earned them a fervidly devoted following over the years. So many artists who launched their careers in the late 1980s have slipped from our collective memory. In contrast, the Indigo Girls stand tall, having earned the lasting respect and devotion of a multi-generational audience which continues to experience their creative evolution in the studio and on stage.
Caroline Aiken
Caroline releases her 2015 and 9th CD: BROKEN WINGS HEAL with special guests Emily Saliers (Indigo Girls), John Keane (GRAMMY nominated producer and musician), Michelle Malone, Ike Stubblefield (Legendary Motown B3) and Randall Bramblett (Bonnie Raitt, Steve Winwood, Allman Brothers). A national tour opening for the Indigo Girls begins July 5 2015 in San Diego.
"Years of performing, beginning in 1969 in NY, California, South America, NW and Europe, Caroline Aiken was named "The Best Acoustic Act" (Atlanta Mag) in her birth town of Atlanta, GA. Her rich history includes recording and performing with Bonnie Raitt and the Indigo Girls, opening for Arlo Guthrie, Muddy Waters, Doc Watson, Randy Newman, Bonnie Raitt, Little Feat, 38 Special, Beach Boys, Janis Ian, Richie Havens. Caroline appears in regional and national festivals, radio shows, workshops and concert series, supporting 8 nationally acclaimed recordings.
Caroline's "Sensual voice, masterful songwriting, expert guitar" (Victory Music-Seattle) anchored the city's acoustic and folk scene, influencing up and coming artists whom she took under her wing, including Indigo Girls and Shawn Mullins." GA MUSIC HALL OF FAME