From our sponsors: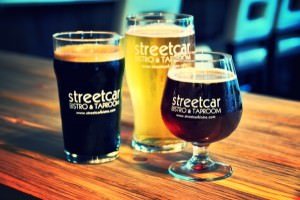 Live Music Nights
Sunday – Thursday: 11am – 11pm | Friday & Saturday: 11am – 1am
More info: streetcarbistro.com/
Streetcar Bistro & Taproom
1101 NW Northrup St, Portland, OR 97209
(503) 227-2988
Streetcar Bistro & Taproom is the Portland Pearl District's Premier Beer and Brown Bar.
Featuring 30 rotating craft beer taps, a wide selection of top shelf scotch & whisky. Stop by for Happy Hour, live music & food!
June 2015 Music Calendar
June 9: 7 p.m. Salvatore Manalo
June 10: 7 p.m. Christopher Woitach w/ John Knowles – Jazz
June 11: 7 p.m. Sky Bound Blue – Harmony-Driven, Foot-Stomping, Dig Deep and tell the story in your bones
June 12: 9 p.m. Justin Sheehy
June 13: 9 p.m. Ian James
June 16: 7 p.m. Josh Nielsen – Rock, Folk, Acoustic
June 17: 7 p.m. Rob Rainwater
June 18: 7 p.m. Christopher Reyne – Indie, Indie Rock, Alternative
June 19: 9 p.m. Nate Botsford
June 20: 9 p.m. Andrew Paul Woodworth
June 23: 7 p.m. Dante Zapata
June 24: 7 p.m. Scratchdog Stringband
June 25: 7 p.m. Tyler Carson
June 26: 9 p.m. The Sale
June 27: 9 p.m. The Brian Odell Band
June 30: 7 p.m. Lisa James Bennett