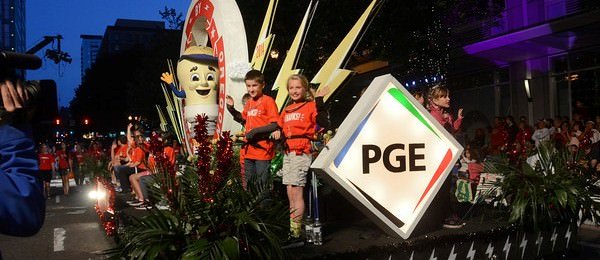 The Starlight Parade is Saturday in downtown Portland! From traditional marching bands and flood-lit floats, to glow-in-the-dark umbrellas and hand-built entries, you'll see the best of Portland's diverse community groups and entries from the surrounding Northwest region.
FREE PORTLAND: We give out 100s of $$$ in free tickets every week including to many of the top music and art venues in Portland. Join our newsletter if you like free stuff!
—————————————————–
Related Portland Events & Info
———————————————
From website:

2015 Portland Starlight Parade
May 30, 2015
8:30 p.m. – 11 p.m. | FREE | All Ages
More Info: rosefestival.org
The Starlight Parade continues a longtime festival tradition from the early 1900s, when illuminated floats built on electric trolley cars made their way through the city on trolley tracks. Today, participants light up the night with approximately 100 illuminated entries along a 2.25-mile route. The parade draws more than 325,000 spectators to downtown Portland, and is also broadcast live from 9:00 – 11:00 p.m. on FOX 12. Don't miss the fun of one of the Rose Festival's best and brightest traditions!
2015 Grand Marshal
The Grand Marshal of the 2015 PGE/SOLVE Starlight Parade is 'PeeDee' the PDX Carpet! The PDX Carpet pays tribute to the thousands of workers at the Portland International Airport who welcome millions of travelers and visitors to the City of Roses each year. The PDX Carpet's unique popularity can be seen on social media with collections of foot selfies that honor the nearly 30-year old carpet that is being replaced this year with a new design. Last year, the carpet and airport served an all-time record 15.9 million passengers. We are proud to honor the "welcome mat" for all who work and travel to Portland during the 75th anniversary year of the Portland International Airport.
2015 Starlight Parade Sections
Each year the PGE/SOLVE Starlight Parade features unique themed sections that each celebrate a different aspect of the Portland community. The 2015 Sections will be announced soon.
Past Starlight Parade sections from 2014 include Making Memories presented by CareOregon, which celebrated the 2014 Rose Festival theme; United in Service presented by Union Pacific, proudly showcased outstanding volunteers and community spirit in the Rose City; Spirit of the West presented by Spirit Mountain Casino, revived a tradition featured in the first Rose Festival, where floats representing communities throughout the West paraded through the city; and the Starlight Parade offered funky, eclectic fun for everyone in the Portlandia presented by Daimler section.
2015 Starlight After-Party!
Join us for the first-ever Starlight After-Party on May 30, 2015, in the Rose Festival RoZone, featuring headliner Sir Mix-A-Lot plus special guests Crazy 8s and Nu Shooz. Special illuminated features and entertainment will be highlighted in between acts – it's the perfect place for post-parade booty shaking! Tickets are on sale now – this show is expected to sell out so get your tickets here!
Admission Special
As the official glow stick sponsor and presenting sponsor of the 2015 Communities in Motion Starlight Parade section, Daimler Trucks North America will be distributing glow sticks during the parade. Following the Starlight Parade, bring your Daimler glow stick to Waterfront Park to enjoy 2 for 1 admission to the Starlight After-Party!
2015 Rose Festival Trimet Service
Avoid the hassle of traffic and parking and let us take you to the Rose Festival parades! TriMet staff and volunteers will be out and about to help you get to, through and home from the parades.
Rose Festival parades are our busiest days of the year, so please plan extra time for your trips and don't forget your fare!
Starlight Parade
The Starlight Parade lights up the night on Saturday, May 30. Last year, more than 271,000 trips were taken during the Starlight event—That's 30% more trips than a typical Saturday (and MAX ridership was up 50%)!
Before the parade
Head to the parade early as the Starlight Run begins at 7:45 p.m. and will cause some delays.
We have a number of Park & Rides. The lots closer to downtown usually fill up first, so consider one a little farther out.
Please avoid bringing large strollers or bicycles on MAX. We're expecting huge crowds, so if you've got a big stroller or bike, you may have to wait longer to find space on the trains.
To help with crowding on MAX trains, express buses will be picking up at NE 13th & Holladay in the Lloyd District, traveling to SW 2nd Avenue and stopping at Taylor, Morrison, Oak and Ankeny streets starting around 5:30 p.m. until 9 p.m.
During the parade
Taking MAX? Plan an extra 30 minutes for all MAX trips as trains systemwide may stop at stations for several minutes while trains in Portland City Center are held during the run and parade.
On the bus? Plan an extra 15–30 minutes for trips on bus lines that run through downtown.
Line 15 will be detoured from about 6:00 p.m. through 12 a.m. for the Starlight Run & Parade.
Line 6 will be detoured from about 7:30 p.m. until approximately 8:15 p.m. for the Starlight Run.
Lines 12, 16, 17, 19, 20, 54, 56 and 77 run through the parade and will be detoured from about 6 p.m. through 12 a.m.
Check the Service Alerts page for details
After the parade
Expect long lines and waits as everyone will be leaving Downtown Portland at the same time. We appreciate your patience!
Express buses will pick up along SW 2nd Avenue at Taylor, Morrison, Oak and Ankeny streets before traveling back to the Lloyd District through about 12:30 a.m.
Extra trains will be running later than regular on the MAX Green and Yellow lines. The last Green Line train will leave Pioneer Courthouse/SW 6th Avenue around 12:15 a.m. The last Yellow Line train will leave Pioneer Courthouse about 12:40 a.m.
The last MAX Red Line train to the Airport will leave Pioneer Square around 10:40 p.m.
Extra service buses will run from Gateway Transit Center to Portland International Airport until 12:30 a.m., dropping off at other Red Line stations in between as needed.
Our new Portland Events App for PDX Pipeline is now available for iPhones, Android phones and iPads!
Now, you can have all of the great Portland events from our website in the palm of your hand when you're out on the town.
Download the App for iPhone here
Download the App for Android here
–————————
———————————————