We are giving away a pair of tickets to the Everything Is Festival Pajama Jammy Jam with Kid N Play and Mix Master Mike at the Star Theater on May 30. To win, comment on this post why you'd like to attend. Winner will be drawn and emailed Friday, May 29.
FREE PORTLAND: We give out 100s of $$$ in free tickets every week including to many of the top music and art venues in Portland. Join our newsletter if you like free stuff!
———————————————
From our sponsors: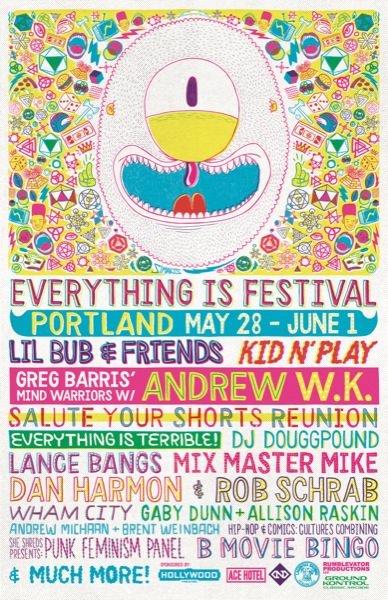 Everything is Festival! Portland
May 28-June 1, 2015
Festival Pass $80
More info: hollywoodtheatre.org
Everything Is Festival comes to Portland!
Everything Is Festival, the world's most completely indefinable festival of fun, is coming to Portland, May 28-June 1! Join us at the Hollywood Theatre and venues across the city for amazing events bridging the worlds of film, music, comedy, art, and pop culture.
Festival events include a live taping of the "Harmontown" podcast with Dan Harmon, a punk feminism panel featuring Kate Nash, a screening of HOUSE PARTY with Kid N Play in person, a meet-and-greet with everyone's favorite feline phenom Lil Bub, a "Salute Your Shorts" cast reunion, and much, much more!
Lie back, close your eyes and enter a world of half-sleeping/half-dreaming—a world of uncanny valleys and video streams, a world of Harmontowns and states of anarchy, all surrounded by mountains of VHS.  That's right, Everything Is Festival–if not the world's greatest, then at least the world's most completely indefinable festival of fun—is coming to Portland.  We've embarked on a mission to find the greatest gonzo found footage, the most accidental movie masterpieces, the weirdest alternative comedy experiments and awesome art/video installations that exist in any dimension.
Here's this year's amazing lineup:
The Everything Is Festival line-up is as follows:
Thursday, May 28 – Sunday, May 31, 24/7
ACE HOTEL ARCADE
Ground Kontrol and the Portland Retro Gaming Expo take over the lobby of the Ace Hotel to present a mini vintage video game expo as part of an ongoing installation through the run of EIF Portland. Featuring vintage consoles and game play, found footage, and more!
Thursday, May 28
● 7:00pm – EVERYTHING IS TERRIBLE! LEGENDS
LA-based film collective Everything Is Terrible! presents the "Legends" program, a culmination of their first seven years of work.
● 9:30pm – SALUTE YOUR SHORTS REUNION SHOW – watch the trailer
Join us for an evening with the cast of the classic '90s TV show "Salute Your Shorts!" Featuring cast members Venus DeMilo (Telly Radford), Erik Macarthur (Michael Stine), Kirk Bailey (Ug), Steve Slavkin (Dr. Kahn), Megan Berwick (Z.Z. Ziff), Michael Ray Bower (Donkey Lips), Heidi Lucas (Dina), Trevor Eyster (Sponge).
● 11:00pm – EVERYTHING IS FESTIVAL OPENING NIGHT PARTY
Join us for the Everything Is Festival Opening Night Party! Location: Nemo Design (1875 SE Belmont St.) Featuring Pound House Live with DJ Douggpound and Brent Weinbach! With opening sets by Andrew Michaan and Amy Miller!
Friday, May 29
● 7:00pm – LIL BUB'S BIG SHOW LIVE
That magical cutie cat Lil Bub is taking her wildly successful web series "Lil Bub's Big Show!" to the big stage! See Bub interview special guests in Bub (with live subtitles, for you humans). Guests include hip hop musician/producer Aesop Rock, singer/songwriter Kimya Dawson, and pet photographer Carli Davidson.
● 9:30pm – B-Movie Bingo Presents OMEGA COP
B-Movie Bingo offers the chance for filmgoers to play bingo to the most awesome movie clichés ever committed to celluloid, this time to the 1990 movie OMEGA COP, with star Ron Marchini in attendance!
● 11:00pm – POWERPOINT KARAOKE WITH ANDREW MICHAAN, BRENT WEINBACH & DJ DOUGGPOUND
Andrew Michaan presents another quality night of PowerPoint Karaoke! Location: Bunk Bar (1028 SE Water Ave.)
Saturday, May 30
● 12:00pm – LIL BUB MEET & GREET
Everyone's favorite magic space cat Lil Bub will be doing a special meet and greet! Sold out!
● 12:00pm – SHE SHREDS PRESENTS: WHAT IS A WOMAN: FEMINISM, PUNK, AND THE IN-BETWEEN
She Shreds magazine presents a panel focusing on the trajectory of feminism in the music industry. Featuring Kate Nash, Bree McKenna of Tacocat, Bitch's Sarah Mirk, and She Shred's Fabi Reyna.
● 5:00pm – FOUND CRAP WITH ROB SCHRAB AND DAN HARMON
See Rob Schrab ("The Sarah Silverman Program") and Dan Harmon ("Community," "Harmontown") present their personal collection of VHS oddities collected over decades.
● 7:00pm – HOUSE PARTY WITH KID N' PLAY – watch the trailer
In the classic '90s film HOUSE PARTY, we get Kid N' Play's signature swag and hairstyles, one incredible eye-popping outfit after another, and one of the craziest party dance sequences in all of film history. With Kid N' Play in person!
● 9:30pm – HOUSE PARTY PAJAMA JAMMY JAM WITH KID N' PLAY AND MIX MASTER MIKE
After our screening of HOUSE PARTY, join us for special performance by Kid N' Play and one of the greatest DJs ever: Mix Master Mike! Location: Star Theater (13 NW 6th Ave)
● 11:00pm – EIF PUNK ROCK PARTY
A mid-fest punk rock party with a couple of our favorite Portland bands, Mean Jeans and Patsy's Rats! Location: Bunk Bar (1028 SE Water Ave.)
Sunday, May 31
● 12:00pm – HIP HOP & COMICS: CULTURES COMBINE
Hip hop and graphic novels are two vastly different circles that intersect more than you may realize in the giant Venn diagram of the art world. Patrick A. Reed (Depth of Field magazine) will bring together graphic artists and musical innovators to discuss interconnectivity between these two creative cultures. Featuring Play (of Kid N Play), Portland comics writer David Walker, graffiti artist 179, Mix Master Mike, and other guests TBA.
● 2:00pm – JUST BETWEEN US WITH GABY DUNN AND ALLISON RASKIN
"Just Between Us" is a popular weekly dating and love advice YouTube show from comedians and besties Allison Raskin and Gaby Dunn.
● 5:00pm – WHAM CITY! – watch the trailer
Baltimore's freak collective Wham City Comedy have performed amazing live shows across the country, created outrageous Adult Swim "infomercials," and participated in every year of Everything Is Festival in Los Angeles.
● 7:00pm – HARMONTOWN LIVE!
Everything Is Festival presents a very special live recording of the sensational comedy podcast "Harmontown" with Dan Harmon and Jeff Bryan Davis.
● 9:30pm – LANCE BANGS PRESENTS (KEYNOTE SPEAKER)
Music video director, behind-the-scenes filmmaker, and documentarian Lance Bangs has collected endless amounts of footage, stories, and buddies along the way. Join us for a very special evening with Lance as he shares with us some of his very favorite things with some of his favorite people…you!
Monday, June 1
● 8:00pm – GREG BARRIS' MIND WARRIORS WITH SPECIAL LIVE INTERVIEW GUEST ANDREW W.K.
"Mind Warriors" is an interview show hosted by Greg Barris that delves into each guest Mind Warrior, with a Q&A session at the end with the audience.Tonight's special guest is singer/songwriter, piano-smasher, and motivational speaker Andrew W.K., live in person!
● 9:30pm – OFFICIAL EIF AFTER PARTY
Hold on to the last vestiges of the most amazing weekend you've EVER experienced (we know, we know) with a closing party at the best bar + arcade around, Ground Kontrol Classic Arcade! Location: Ground Kontrol (511 NW Couch St.)