We are giving away a pair of tickets to Jackson Boone, Bike Thief, Hildegard (New Orleans) Live @ Doug Fir Lounge on May 25. To win, comment on this post why you'd like to attend. Winner will be drawn and emailed Friday, May 22.
FREE PORTLAND: We give out 100s of $$$ in free tickets every week including to many of the top music and art venues in Portland. Join our newsletter if you like free stuff!
———————————————
From our sponsors: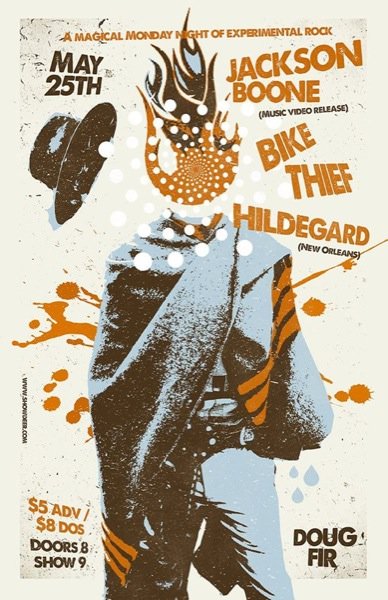 Jackson Boone, Bike Thief, Hildegard (New Orleans) Live
May 25, 2015
Doors: 8:00 pm / Show: 9:00 pm | $5-8 | 21+
Tickets: dougfirlounge.com
Doug Fir Lounge
830 E Burnside St, Portland, OR 97214
(503) 231-9663
Hildegard
Hildegard is a venturous collaboration between two of the leading voices on the New Orleans progressive music scene, vocalist Sasha Masakowski and guitarist Cliff Hines. Together the two have created genre-defying original music that seamlessly fuses progressive-rock and art-pop with contemporary jazz. Compositions are dynamic and compelling, Sasha's airy vocals singing catchy melodies with bold lyrics over a bed of lush harmonic and rhythmic structures while Cliff's wild guitar sounds conjure otherworldly spirits. They will be touring the west coast in May 2015 in support of their debut self-titled album. They have opened for such national acts as Brazillian Girls, Marco Benevento, Mike Dillon Band, Knower, and Becca Stevens.
In 2009, after the debut of her first album Musical Playground, Sasha was awarded New Orleans' Big Easy Music Award for "Best Emerging Artist of the Year." Since her 2011 release, Wishes has garnered Masakowski international acclaim with consistent airplay in the United Kingdom and performances throughout South America Europe and Asia.
Hines, now the current guitarist with internationally acclaimed trumpeter Christian Scott, has also released two records as a bandleader. Like Mystics of Old featured a fusion of electronic experimentation with pop sensibility. Cliff's sophomore release, Wanderlust, draws influence from folk and world music in conjunction with his uncanny union of electro-acoustic soundscapes. Both albums featured Sasha on vocals. Throughout 2012, Hines toured with The Mike Dillon Band as their bassist/guitarist/keyboardist, and was featured on their debut release Urn as well as their follow-up Band of Outsiders.
Jackson Boone
Jackson Boone is a songwriter born and raised in the misty magic of Portland, OR. He began playing guitar and singing in Art-rock bands in the mid-2000s (Tantric Picasso, Cosmic Pineapple, Big Girls). In 2013, when his latest project came to a close, he decided to continue cutting records under his own name.
Jackson's debut record Starlit was produced by Riley Geare (Unknown Mortal Orchestra), and released in July of 2014. His next, Natural Changes, is coming out in summer of 2015, and features members of Portland bands Radiation City, Unknown Mortal Orchestra, Coma Serfs, and Sinless.
Bike Thief
Bike Thief is a Dark/Dynamic Experimental/Psych Indie Rock band hailing from Portland, OR.
"Bike Thief's set list was a peculiar and beautiful tapestry, showcasing their ability to cross genre lines without losing talent along the way. The Portlanders' live performance stayed true to Perez's description and crossed from the realm of hard rock into classical, with instances of punk and psychedelic rock.
The show lighting was remarkable as well. The band's setup included a fractal drawn on the bass drum that glowed bright pink beneath a black light, as did hidden embroidery included in Perez's suit. Blue, red and green lights flashed in pace with the music, and the entire room turned black when I shut my eyes to focus on the music.
At times, I felt like I was listening to singles from Beirut, Fleet Foxes, Animal Collective (pre-"Merriweather Post Pavilion") and hardcore Fall Out Boy. Other times, it felt as if all the above bands were thrown into Audacity and turned into one giant mix track.
The show was well-coordinated, with upbeat songs fading into trance songs. This was no surprise in the live show, as Perez said they are a band that enjoys creating one cohesive album rather than an LP full of singles."
-Amanda Lacasse