We are giving away a pair of tickets to The Polish Ambassador @ Crystal Ballroom on June 5. To win, comment on this post why you'd like to attend. Winner will be drawn and emailed Monday, June 1.
FREE PORTLAND: We give out 100s of $$$ in free tickets every week including to many of the top music and art venues in Portland. Join our newsletter if you like free stuff!
———————————————
From our sponsors: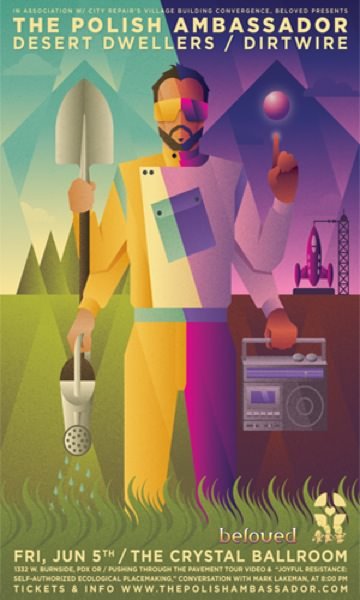 Beloved Presents & The Village Building Convergence Present: THE POLISH AMBASSADOR
June 5, 2015
7:30 p.m. / 8 p.m. | $25 ADV | All Ages
More info: Facebook
Tickets: etix.com/
Crystal Ballroom
1332 W Burnside St, Portland, Oregon 97209
Beloved Presents, in association with The Village Building Convergence is proud to present The Polish Ambassador featuring the Liminus Visual Experience and special guests Desert Dwellers and Dirtwire hosted by The Poet Pistachio.
The Polish Ambassador's Permaculture Action Days have inspired fans around the world. This June, he returns to Portland to participate in 10-days of direct action to transform our city— The 15th annual Village Building Convergence.
~ The Village Building Convergence ~
The 15th Annual VBC is scheduled to take place May 29th – June 7th, 2015. A ten-day event where neighborhoods activate to build shared public places and eco-oriented projects they have envisioned, designed, funded, and will maintain for themselves. VBC15 will include hands-on education in permaculture design and construction, ecological building, and public art!
All projects are accomplished through collaboration, community conversations and commitment of a neighborhood to strengthen itself. Projects are founded on developing strong local relationships, social capital and equity, placemaking, ecological design, supporting our local economy, and developing our city and bioregion as a network of interconnected Village Centers. Everyone is invited to attend evening events at a central location, to participate in workshops or listen to visionaries speak about various aspects of sustainable culture and positive world transformation. www.villagebuildingconvergence.com
For the Polish Ambassador project, born on the richly-colored streets of Chicago and San Francisco, infectious melody is paramount. However, this never overshadows the depth and harmonic complexity that have made the Ambassador a favorite amongst festival curators and beat aficionados worldwide. Over the course of 6 years, his sound has dipped and swirled through a staggering range of styles, with each album exploring uncharted sonic territory. Warm, analogue dreamwave; mind-altering glitch; world-infused groove; bass-fueled breaks; sexified down-tempo; electric lullabies; and psy-fi funk are just a few of the genres that have poured from the Ambassador's soul into earbuds and ghetto-blasters across the galaxy.
Despite the political connotations of his name, the Ambassador is not a political partisan. Rather, he is a diplomat for a new paradigm rooted in creative joy, radical self-expression, and ecological principles. As part of this mission, the Ambassador has committed to carbon-neutral touring, instigating exploratory dance, and igniting fan participation.
Flanked on the Ambassador's left is visual artist Liminus, a master of translating dynamic, sonic landscapes into breathtaking video projection. Liminus's improvisational abilities are a perfect complement to the Ambassador's custom-tailored audio transmission, and his presence on stage allows for an audio/visual synergy rarely witnessed in electronic music performance. Together, the duo will take you on a voyage that leaves you drenched in sweat, with a smile slapped on your face, and a heart busted wide open. www.thepolishambassador.com
~ Desert Dwellers ~
Taking a new approach on digital production, the main members Amani & Treavor have combined the raw sounds of the natural world with skillfully blended deep bass, earthy percussion, etheric voices and culture crossing instrumentation into sonic incense for the mind and body. With this blend of dance tracks and down tempo sounds they have enabled themselves to give a heightened sense of being to listeners through their musical medium. Desert Dwellers are one of the foremost influences in a genre that they basically expanded from the ground up to be where it's at today. With a blend of a variety of sources that have been composed to form a heavily weaved set of sounds that coincide in perfect harmony together Desert Dwellers has established themselves in not only their home area of Southern California and New Mexico but across the globe.
Bringing the electronic bass music vibe to the yoga scene, and the sounds of yoga to the electronic dance scene, Desert Dwellers' global sounds are the bridge between worlds. Joining solid groove with sounds of serenity, their signature aesthetic feels as natural on the dance floor as it does after hours or on the mat. Due in no small part to Desert Dwellers' pioneering spirit, the very concept of chill-out and sacred bass music has expanded dramatically. These sound alchemists offer cutting edge techniques that blend the modern edge of electronica with ancient and organic sounds, offering a spellbinding hybrid with echoes of our tribal past and future. The result has been the prolific production of genre blending dance tracks and downtempo grooves that make for truly memorable listening experiences. www.desertdwellers.org
~ Dirtwire ~
Dirtwire is an electro-acoustic duo born of David Satori of Beats Antique and Evan Fraser of Hamsa Lila. Dirtwire sits on the back porch of Americana's future, conjuring up a gris-gris of sound using an amalgamation of traditional instrumentation, world-beat percussion, and digital soundscapes. Each performance brings the audience to a mysterious crossroads at an imaginative and seductive moment in time. The result is a rebirth of Americana and beacon for a post-millennial return to downhome goodness.
The Dirtwire duo met at the California Institute of the Arts while studying World Music Composition. Both members of other successful music projects – Satori as part of the sensational electronic dynamo group Beats Antique and Fraser at the helm of world groove bands Hamsa Lila and Stellamara – their unique chemistry led to a continued musical friendship throughout the years. In 2012 Satori and Fraser released the debut Dirtwire album, attracting everyone from electronic dance junkies to traditional world and roots music toe-tappers. With this first release, Dirtwire was introduced to the world and a new family was founded. Satori and Fraser get down as Dirtwire at select theater and festival stages across the US.  www.dirtwire.net
~ Liminus ~
Since 2001, Liminus has spent most of his waking hours making paintings and interactive art. In the early months of 2012, however, he left behind most everything he knew and strapped himself into the Polish Ambassador's space Escalade. Since then, Liminus and the Ambassador have performed over a hundred shows together, co-piloted more than 20,000 miles of American road, and spent untold hours scheming on art in poorly-decorated hotel rooms and desolate airports. This unusually deep collaboration between an electronic musician and a visual artist has propelled the duo into rich creative territory.
In contrast to most musical acts, the Ambassador and Liminus perform side by side, to feed off each other's inspiration and to put the show's visual dimension on par with the music. Being in such synergistic flow, and also so intimately acquainted with the music, allows Liminus to create improvisational visuals that are exquisitely attuned to the mood of the music.
When not on stage with Polish, Liminus can usually be found neck-deep in some geeky art shit. While normal people sleep, Liminus feverishly draws, programs, and hacks, endlessly looking for ways to make TPA shows more and more dynamic, immersive, and interactive. To witness the delicious madness he is currently cooking up, get your ass and your eyes down to the nearest Polish Ambassador show. www.limin.us
The Poet Pistachio is a poet-comedian improvising poems, prose, and songs to tickle and inspire. Taking to the stage as a one man entertainment extraordinaire he is sure to bring wonder, joy, and smiles to every performance.
More info on Pistachio here: https://www.facebook.com/thepoetpistachio