From our sponsors: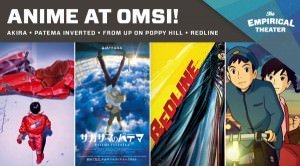 Anime At OMSI
May 22-25, 2015
$7 Adults, $6 Youth / Senior
More info: omsi.edu
Oregon Museum of Science & Industry's Empirical Theater
1945 SE Water Ave, Portland, OR 97214
(503) 797-4000
Once again, OMSI brings you four exceptional Japanese anime films as part of the "Anime at OMSI" series: Redline, Patema Inverted, From Up on Poppy Hill and a pair of special late-night screenings of Akira. Each film will be exhibited on the Empirical Theater's four-story screen in Japanese with English subtitles.
The directorial debut feature of Takeshi Koike, Redline is set in a distant future where hover cars reign supreme and wheeled vehicles are a thing of the past. Against this backdrop, a handful of dedicated speedsters – among them the reckless dare-devil JP  – aim for the ultimate goal: to compete in the notorious "Redline" race, a once every five years, no-holds-barred tournament where anything goes. With his ultra-customized car, JP battles organized crime, a militaristic government, and a host of elite drivers  – including the alluring Sonoshee Maclaren— in a madcap bid to take the checkered flag.
In Patema Inverted a scientific catastrophe has reversed gravity and created a world of "inverts" who live underground, lest they "fall into the sky" forever. Princess Patema one day leaves this underground world, tumbling headlong into a void and out into the wide open world above the surface. Age is a student on this surface world when he spies Patema hanging upside-down from a tree. He pulls her down to safety, struggling to keep her earthbound. Together they master the art of navigating competing gravitational forces and set out to discover the secret that keeps their worlds apart.
Japan's top-grossing animated feature in 2011 and recipient of the Japanese Academy Award for Best Animated Feature, Goro Miyazaki's From Up on Poppy Hill unfolds in Yokohama over the days leading up to the 1964 Tokyo Olympics. Picking themselves up from the devastation of World War II, the country's citizens are both optimistic and conflicted as the younger generation struggles to throw off the shackles of a troubled past. Against this backdrop of hope and change, a friendship begins to blossom between high school students Umi and Shun – but a buried secret from their past emerges to cast a shadow on the future and pull them apart.
Set in the post-apocalyptic city of Neo-Tokyo, the cyberpunk adventure Akira concerns a biker gang member whose exposure to a mysterious energy source and subsequent development of telekinetic powers place him at the center of a conflict that may destroy the world. Admired for its exceptional visuals, this 1988 science fiction action film is considered to have set the standard for modern anime and over the years has emerged as a cult classic.
Schedule
Friday, May 22
From Up on Poppy Hill – 6:30pm
Patema Inverted  – 8:30pm
Akira – 10:30pm
Saturday, May 23
Patema Inverted – 6:30pm
Redline – 8:15pm
Akira – 10:30pm
Sunday, May 24
From Up on Poppy Hill – 5:30pm
Redline – 7:15
Monday, May 25