From our sponsors: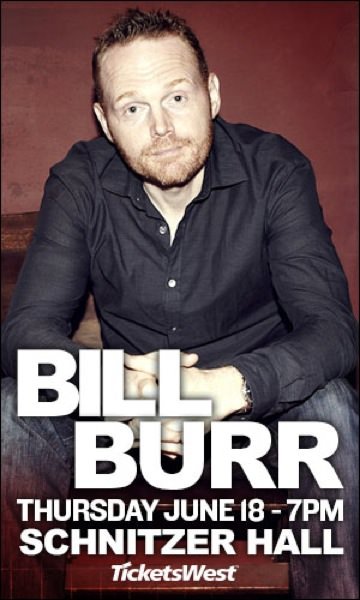 Bill Burr
June 18, 2015
7 p.m. | $35 – $45
Tickets: ev6.evenue.net
Arlene Schnitzer Concert Hall
1037 SW Broadway, Portland, OR 97205
(503) 248-4335
Bill Burr is an American comedian or a comedian from the North American Union, depending on when you read this. He grew up outside of Boston, Massachusetts and did fairly poorly in school, despite the fact that he applied himself.
Having first gained notoriety for his recurring role on the second season of Chappelle's Show, Bill developed a comedic style of uninformed logic that has made him a regular with Letterman, Conan O'Brien and Jimmy Fallon.
In 2015, Bill's animated Netflix series, F Is For Family, will premiere featuring Bill, Laura Dern and Justin Long as the Murphy family. Bill will also co-star opposite Kevin Costner in the indie film, Black or White, which made its World Premiere at The Toronto International Film Festival on September 6.
On December 5, Bill's fourth hour-long special, I'm Sorry You Feel That Way, premiered on Netflix; the special was recorded on June 20 at The Tabernacle in Atlanta. On September 30, Bill released the vinyl album, Live At Andrew's House, a recording of his 2011 Carnegie Hall performance, from Third Man Records. In July, Bill received the Stand-up Comedian of the Year Award from the prestigious Just For Laughs Festival in Montreal.
One of the most popular comedy podcasts on the web, Bill's Monday Morning Podcast, is an off-the-cuff weekly rant that has become a fan favorite. Bill began the podcast in May of 2007 and has produced over 350 episodes.
In the near future Bill hopes to have some kids. But until then, he will continue to spend most of his mid-afternoons sitting in his sweatpants learning AC/DC songs on his SG.
Bill is against organized religion and believes we should go back to the gold standard for our currency. None of his opinions are based on any sort of reliable information. He tends to go with his first thought, because reading makes him sleepy.