From our sponsors: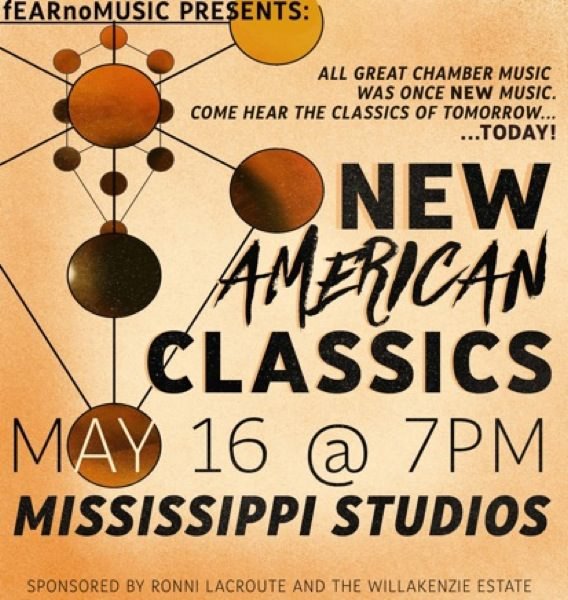 fEARnoMUSIC presents
NEW AMERICAN CLASSICS: works by Stephen Hartke and Osvaldo Golijov
May 16, 2015
7 p.m. | 21+
$10, students/$20, seniors/$25 ADV / $30 Doors
Tickets: fearnomusic.org
Mississippi Studios
3939 N Mississippi Avenue ∙ 503.288.3895
All great music was once new music. In the spirit of this notion, fEARnoMUSIC (Kenji Bunch, artistic director) presents two recently-written chamber works destined to enter the repertoire of classic masterworks, alongside those of Beethoven, Mozart, and Brahms.
In an intimate, hour-long concert at Portland's groundbreaking Mississippi Studios, fEARnoMUSIC will perform Osvaldo Golijov's captivating, landmark work for string quartet and klezmer clarinet, The Dreams and Prayers of Isaac the Blind. A deeply expressive portrait of Jewish faith and culture, inspired by the mystical writings of a blind 12th century Kabbalist Rabbi, the unique cadences of the Aramaic, Yiddish, and Hebrew languages, and the wildly exuberant klezmer music tradition, this work resonates with audiences, musicians and critics alike, and has quickly become one of the most popular pieces of new chamber music since its premiere in 1994. Oregon Symphony clarinetist Mark Dubac joins the FNM string quartet (Joël Belgique, viola; Inés Voglar Belgique, violin; Paloma Griffin, violin; Nancy Ives, cello) for this special performance.
Opening the concert will be Stephen Hartke's witty, quirky, and engaging King of the Sun for violin, viola, cello, and piano. Titled after a mistranslation of the 14th-century Flemish canon Le Roy au Soleyl (The Sun's Ray), Hartke uses the humor in this error as a point of departure on a journey through an eclectic, anachronistic mélange of musical and conceptual elements inspired by Spanish artist Joan Miró. fEARnoMUSIC directors Kenji Bunch (viola) and Monica Ohuchi (piano) join violinist Inés Voglar-Belgique and cellist Nancy Ives on this piece.