From our sponsors: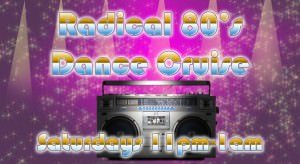 Radical 80s Dance Cruise
Saturdays February 14, 2015 through November
11 pm. – 1 a.m. | $20 / $10 for groups of 8+ | 21+
More info: portlandspirit.com
The best 80's dance cruise in Portland is on the Portland Spirit!
Break out the hammer pants and leg warmers, time warp to the most radical decade and dance to the best of the 80's with DJ MC.
Saturdays – 11pm-1am
$20 per person
$10 per person for groups of 8+
Age 21 and over
Costumes are encouraged!
View upcoming 80s cruises at portlandspirit.com
Prices for all cruises are subject to change. Displayed prices do not include $4 per-passenger landing fee and any other relevant taxes or charges.