From our sponsors: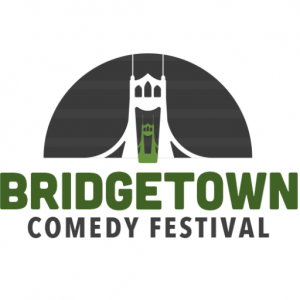 Bridgetown Comedy Festival
May 7-10, 2015
Passes: $89–$225
Tickets: bridgetowncomedy.com
The eighth annual Bridgetown Comedy Festival will be held May 7– 10 at venues throughout Portland's Inner East Side. Four-day passes are now on sale for $89–$225; a preliminary list of performers is now available at www.bridgetowncomedy.com.
Performers at the 2015 festival include:
Jonathan Katz (Dr. Katz, Professional Therapist),
Janeane Garofalo (The Larry Sanders Show, Reality Bites),
Andy Kindler (The Daily Show, Bob's Burgers),
Neil Hamburger (Tim and Eric Awesome Show, Great Job!)
Jackie Kashian (The Dork Forest, Bob and Tom, Conan),
Kyle Kinane (Drunk History, Comedy Central Presents),
Dana Gould (The Simpsons, The Ben Stiller Show),
Brendon Small (Metalocalypse, Home Movies)
Karen Kilgariff (Mr. Show, The Pete Holmes Show)
Baron Vaughn (Arrested Development, Grace and Frankie),
Dave Hill (The Dave Hill Explosion, This American Life),
Jessica Williams (The Daily Show, Girls),
Kurt Braunohler (The Tonight Show, @midnight, Roustabout),
Moshe Kasher (Late Night with Jimmy Fallon, Drunk History),
Beth Stelling (Conan, @midnight, Chelsea Lately),
Michael Kosta (The Tonight Show, Attack of the Show, Conan),
Kira Soltanovich (Girls Behaving Badly, The Tonight Show),
Laura House (Austin Stories, Futurama),
Ron Lynch (Bob's Burgers, Home Movies, The Sarah Silverman Program),
Matt McCarthy (The Pete Holmes Show, CollegeHumor.com)
and over 100 more.
Special Shows Include:
An Evening with Dr. Katz, Professional Therapist: A 20th Anniversary Show, celebrates the cult classic and Emmy– and Peabody–award winning program by bringing well-known stand-ups to the doctor's couch, complete with their most glaring quirks and idiosyncrasies. Guests will include Janeane Garofalo, Andy Kindler, Dana Gould, Brendon Small and several surprises.
Baked with Steve Agee and Brendon Small: New Girl actor Agee and Metalocalypse creator Small host an evening of comedy and live music performances.
Hound Tall, a live podcast and discussion series hosted by renowned comic Moshe Kasher, asks a panel of comedians to ruminate on one specific topic.
Jackie Kashian's The Dork Forest, a celebration of "dorkdom," features "dork on dork" dialogue between Kashian and her guests about their favorite obsessions.
7 Minutes in Purgatory, hosted by Ian Abramson, tasks comedians with doing a set alone in a room, with the audience watching via live stream in another room.
The Crabfeast, adventures in storytelling from tale-spinning comedians Jay Larson and Ryan Sickler.
Sex Nerd Sandra explores fascinating topics & perspectives on sex and love, led by sexuality educator Sandra Daugherty and a panel of special (and very funny) guests.
The Dana Gould Hour, in which Gould is joined by fellow comedians and other interesting people with a focus on the weird and the real, for conversation, music, and monologues.
The OkCupid Show, in which three comedians who moonlight as dating experts use their insane skills to help audience members find a date, including arranging real first dates live on stage.
The K-Ohle, a multi-format podcast hosted by Kurt Braunohler that involves blindfolding guests and driving them to undisclosed locations, as well as discussing boats, pets, and scientific theories.
Blaria LIVE, hosted by comedian Phoebe Robinson, is based on the popular "Blaria" blog—the black version of '90s MTV character Daria.
Bridgetown's 2015 lineup features native Portlanders who have gone on to rule the comedy world and shape nationally televised comedy series. These include Matt Braunger (Maron, Up All Night, MADtv, Family Tree) and Ian Karmel (Chelsea Lately, Conan). They are joined by the most talented young comedians from Portland's renowned comedy scene: Sean Jordan, Steven Wilber, Bri Pruett, Curtis Cook, Nathan Brannon, Caitlin Weierhauser, Veronica Heath, Gabe Dinger, Anthony Lopez, and Amy Miller, among others. Additional performers and shows will be added to the programming throughout March.
Anchoring the festival will be the Kill Rock Stars Stage at the Doug Fir Lounge and the Mailchimp Stage at the Bossanova Ballroom. Other venues are Revolution Hall, Rotture, Norse Hall, and smaller bars and restaurants throughout Inner Southeast Portland.
Weekend passes are now on sale for $89–$225. Please note that individual show tickets are sold in advance only for Dr. Katz, Professional Therapist; full festival passes are on sale now and single tickets to all other shows will be available at each venue in advance of each show.
ABOUT BRIDGETOWN COMEDY FESTIVAL
Long before Portlandia burst onto the scene, there was the Bridgetown Comedy Festival. Over the course of eight years, Bridgetown has established itself as one of the most esteemed entertainment events on the West Coast, a celebration of innovative humor that proudly bears Portland's signature style.
This four-day annual event unites thousands of comedy fans with a carefully curated roster of up-and-coming performers and comedy veterans from around the world, not to mention podcasters, writers, filmmakers, and musicians. Bridgetown regularly features seasoned performers and writers from television shows like 30 Rock, Arrested Development, The Daily Show, Saturday Night Live, and The Simpsons, and the festival's hand-picked newcomers often go on to become prime-time and box-office darlings. More than just a celebration of stand-up comedy, Bridgetown's programming offers sketch, improv, podcasts, films, panel discussions, music, interactive audience games, and more. The result is the type of ingenious, spontaneous, creative fantasia that can only happen in Portland.
The festival has hosted over 700 performers throughout its history, including Patton Oswalt, Marc Maron, Janeane Garofalo, Margaret Cho, Maria Bamford, Kristen Schaal, Tim Meadows, Todd Barry, Oscar Nuñez, and Fred Armisen. Each year's roster of performers features Bridgetown's distinctive blend of world-famous headliners, up-and-coming performers, and the Pacific Northwest's top talent.
Festival venues, focused in Southeast Portland, include Doug Fir Lounge, the Bossanova Ballroom, Revolution Hall, and Norse Hall in addition to smaller and more informal performance spaces. Audience members can see any of the dozens of shows over the course of the weekend with a single wristband; they can quickly hop from seeing a sold-out show in a 500-seat venue to seeing a national headliner in an intimate, 40-seat performance space on a burger joint's back patio.