From our sponsors: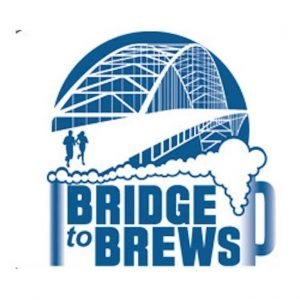 Bridge to Brews
April 12, 2015
7:30 am Doors, 8:15 a.m. Kids Half Miler, 8:40 a.m. 10K & 8K Races
$49-64 | All Ages
More info: terrapinevents.com
Waterfront Park
SW Naito Pkwy, Portland, OR 97204
Bridge to Brews is a fun and unique event that has grown to be one of the largest in the area. The event continues to be the only running / walking event to take participants over the Fremont Bridge, offering very unique views of the city! We also continue to provide tons of entertainment on the course, great race support, chip timing and a fun kid's area.
For the second straight year we will have a beer festival as part of the post-race activities. There will be many great breweries offering some of the tastiest beer, wine and ciders around. Come check it out! Some other things the race includes are:
Commemorative technical t-shirt
Commemorative stainless steel cup (for your beer!)
Free beer (over 21) and beer tickets for tasting
Great post-race food
A sweet VIP area
Live music
Post race party on the waterfront
Unique views of city from Fremont Bridge
Much more!
Pricing
10K
$54 (Wed March 18th through Thursday prior to event / shirt not guaranteed)
$64 race weekend (Shirt not guaranteed)
8K
$54 (Wed March 18th through Thursday prior to event / shirt not guaranteed)
$64 race weekend (Shirt not guaranteed)
KIDS' HALF MILER (shirt not included)
$8 (through Thursday prior to event)
$12 race weekend
OUR BENEFICIARY
Founded in 2007 Molly's Fund Fighting Lupus is a Portland, OR -based non-profit that is changing the way people understand lupus, its diagnosis and its treatment. Lupus is a debilitating disease affecting approximately 1.5 million Americans; 90% of those dignosed are women. Despite its prevalence, lupus is rarely understood and under researched. It can affect any part of the body, resulting in pain, inflamation, and systemic damage. There remains no cure for lupus, and it is estimated that 10-15% of those diagnosed will die prematurely due to complications from the disease.
Our support groups, online and local, serve the entire community of people affected by lupus. Through one-on-one client advocacy we connect lupus sufferers with services to address their medical and overall wellness needs– like disability application assistance, prescription assistance, and legal consultation. Our Mission: to educate the public and the medical community about lupus, to push for earlier, life-saving diagnoses for those afflicted, and to spur governments and foundations to fund research toward a cure.
To find out more please visit the Molly's Fund website.