From our sponsors: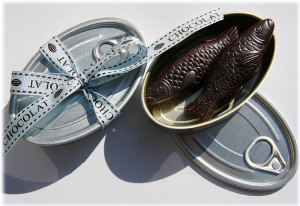 Poisson d'Avril
March 25-April 30, 2015
More info: pixpatisserie.com
Pix Patisserie
2225 E Burnside St, Portland, OR 97214
(971) 271-7166
Literally "April Fish," these are found in chocolate shops all across France for April Fool's Day when young children slap paper fish onto unsuspecting adult's backs, crying "Poisson d'Avril" as they run away.
The chocolate version is best in your mouth, not on your back. It's never too early to get yours for April Fools Day!
These tasty little fishes are available March 28 through Easter for $7.50