From our sponsors: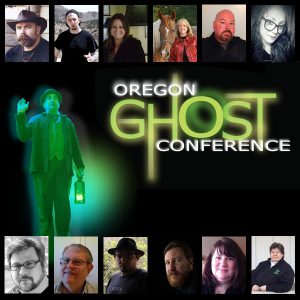 2015 Oregon Ghost Conference
April 10-12, 2015
More info: oregonghostconference.com/
Old Oregon City High School Jackson Campus
1306 12th St, Oregon City, OR
The Oregon Ghost Conference appears in Oregon City for the 4th year this April!
The Oregon Ghost Conference will take place April 10-12, 2015 at the Old Oregon City High School Jackson Campus in Oregon City Oregon.
The 4th Annual event will include guest speakers and authors from all over the Northwest and beyond. The conference will include special events, including Investigations of Haunted Places, Ghost Tours and Meet and Greet events. Don't miss the vendor area and interacting with representatives from over 20 Paranormal Groups from the Northwest.
See oregonghostconference.com For a Full Schedule of Events.
Oregon Ghost Conference Entertainment:
An Evening of Comedy with Marcus from NBC's Last Comic Standing! April 10th, 8:30pm
Comedian/ impressionist Marcus first rose to public attention with his appearance on the hit NBC series, Last Comic Standing where he made it all the way to runner­up. Since then, Marcus has been touring the United States consistently, performing at colleges, theaters and comedy clubs around
the United States.
An Evening of Spirit Communication with Ankhasha Amenti! April, 11th, 8:30pm
Are you curious how psychic mediums connect with "the other side?" Do you want an opportunity to communicate with your loved ones who have passed into the spirit world? Join us for this exclusive evening with Ankhasha, who will give a unique view into how mediumship works and will offer reading to members of the audience. Don't miss this exciting evening of discovery and messages from the other side!
Oregon Ghost Conference Director Bio: Rocky Smith is well known in Oregon as a local historian and ghost expert, especially when it comes to Oregon's oldest City, Oregon City. In college Rocky worked for three years in the historic Ermatinger House, the home the city of Portland was named in. It is the third oldest house in the state of Oregon and has several spirits. Rocky has had many paranormal experiences over the past 20 years in the Ermatinger House including his first experience, which was featured in Susan Smitten's book, Ghost Stories of Oregon. Rocky has also worked hard to preserve the historic home which is now getting a complete restoration and should be completed this summer. Rocky started researching the paranormal activity in Oregon City in 1995 and has documented close to 100 haunted places within the city. In 2006, Rocky combined his love for history and knowledge of the paranormal, founded Northwest Ghost Tours and now leads the Walk with the Spirits tours in Oregon City. Rocky has been featured on local radio and TV and has been asked to speak at several paranormal conferences on the west coast. Rocky was awarded Oregon City's Citizen of the Year in 2013 and currently is the Director of the quickly growing Oregon Ghost Conference.