From our sponsors: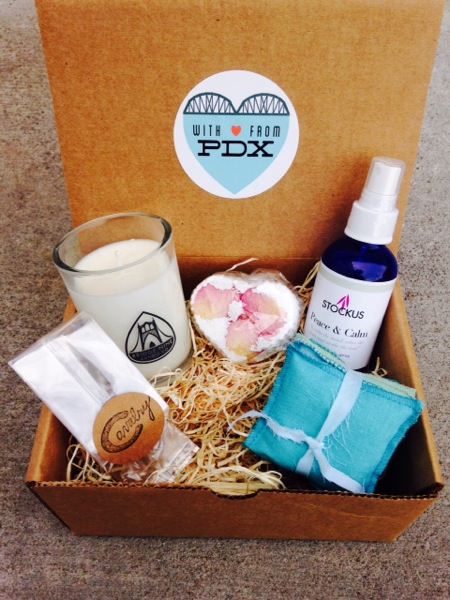 With Love, From PDX Pop Up Shop
Open Thursday – Sunday — 12:00 pm to 7:00 pm
Special Event Bitters + Bites: March 21, 2015 | 2-4 p.m.
More info: withlovefrompdx.com
With Love, From PDX
4935 NE 42nd Ave., Portland, OR 97218
With Love, From PDX, a seasonal pop-up shop showcasing Portland local artisans will emerge on 42nd Ave near notable restaurant Old Salt as another up and coming retailer in the neighborhood. Curated product assortment featuring 45 local artisan brands including Jacobsen Salt Co., Pinkelton's Curious Caramel Corn, Stockus, Bandicoot Designs, and other fill the 400 sq foot space next to Rocket Pizza.
The shop leverages the growing interests in locally-made wares, goods, and products available from local makers. Our 42nd Ave, a PDC Neighborhood Prosperity Initiative is behind the recent project helping to support emerging small businesses in the area.
Shop curator, Inger McDowell is thrilled by the initial outpour of support from the local community. With the recent emergence of shops around the city focused on locally-made products, this shop has goals of delivering locally made products to consumers and supporting small business owners who live in the neighborhood.
The shop curators are building an online companion site that allows consumers to shop as many Portland made brands as possible by category for makers by industry. For example, a shopper could be searching for local furniture makers and they can filter their request and select from several locally designers.
The shop will be at this location from March 7-May 9, open 11-7 Thursday-Friday and 11-6 Saturday-Sunday.
Stop by March 21 from 2-4 p.m. for free community event Bitters + Bites. Portland Bitters Project will be hosting the event in our space and we'd love to have locals come out and enjoy some sunshine and fun with us.