From our sponsors: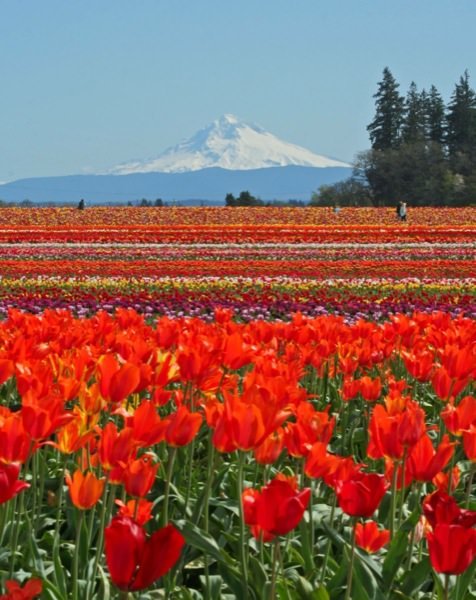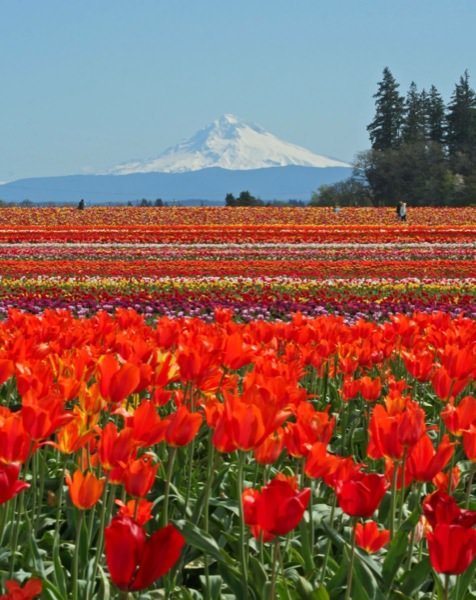 2015 Wooden Shoe Tulip Festival
March 20 – May 3, 2015
9AM – 6PM daily
$5 Per Person / $20 Max Per Car
More info: woodenshoe.com
Wooden Shoe Tulip Farm
33814 S. Meridian Rd. Woodburn, OR 97071
The spring-like weather in the Pacific Northwest has prompted the 31st annual Wooden Shoe Tulip Fest, to open one week ahead of schedule this year: Friday, March 20. The event, running through May 3, centers around 40 acres of tulips in every color, and draws visitors from around the world. The Tulip Fest is presented by Silverton Hospital, and supported by Les Schwab, Woodburn Premium Outlets, Papé Machinery, and Ag West Supply.
"Each year we look for new ways to make this special experience different from the year before," said Barb Iverson, Wooden Shoe Tulip Farm. "This year will be the first that we have wine tastings featuring wine from our own vineyards during the event. In addition, the flower varieties are arranged differently in a new pattern of color as tulip fields are rotated to a new location. From Lily-flowered tulips to Parrot tulips, visitors will see a bulb in every hue."
Visitors to the Tulip Fest will have access to the four-acre Wooden Shoe Event Garden, hay wagon rides, cow trains, children's play area, duck races, slides, swings, and photo cut-out boards for creating fun memories. This year the new Wooden Shoe Vineyards tasting room will be open with daily wine tastings near the fields from noon until 5 p.m., with special musical guests on select weekends.
On Saturdays and Sundays there will be additional activities including wooden shoe making demonstrations, pony rides, jump tents, zip lines, and paintball. Visitors can check the weather conditions of the farm before their trip by visiting the Field Report, which is updated daily.
Special Events
The farm offers special events throughout the festival. This year, the special events include:
March 28: The Tulip Trail 5K/10K Run. Proceeds go to Oregon City Track department.
April 4: Easter Egg Hunt: 10 a.m. & noon; located in Wooden Shoe Gardens
April 5: Sunrise Easter Service: 7 a.m. in the tulip fields
April 10, 17, and 18: Shutterbug Photography Class
April 11, 12, 18, and 19: Special Musical Guests from noon until 4 p.m. near the tulip fields
April 17: Private Shutterbug photography class for elementary school group
April 18: Gary Randall Photography Class
April 23: Pro Photo Photography Classes
April 24–26: Doggie Days: All visitors that bring a pet will receive $1.00 off admission. Northwest Boxer Rescue will be onsite doing puppy paw print souvenirs and pictures in the tulips from 11 a.m. until 6 p.m. Tulip, the farm's resident cow will also wander around the tulip fields at 11 a.m., 1 p.m., and 3 p.m. giving out prizes for the cutest pet costumes and best tricks.
Admission and Pricing
Individual admission is $5.00 per person ages 13 and above with a maximum car charge of $20.00. Children 12 years and younger are admitted for fee. Information on additional pricing options such as group tours can be found online.
About Wooden Shoe Tulip Farm
The Iverson family farm began in 1950 and the family started growing tulips in 1974. The Wooden Shoe Bulb Company started in 1983, and in 2001 and they changed the name to Wooden Shoe Tulip Farm. The fields are open each year from the end of March to the first week of May. In recent years the farm has added a Fall Gift Shop, Pumpkin Fest and Fields of Terror in the fall. In 2014, the family announced the farm's newest addition, the Wooden Shoe Vineyards. For additional information, please visit: http://www.woodenshoe.com.