From our sponsors: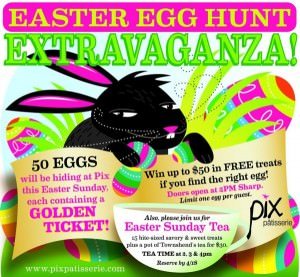 Pix Easter Egg Hunt Extravaganza & Easter Sunday Tea
April 5, 2015
Egg hunt doors open at 2 p.m.
Tea at 2, 3 & 4 p.m.
Make Tea reservations by calling 971-271-7166
Pix Patisserie
2225 E Burnside St, Portland, OR 97214
(971) 271-7166 | More Info: pixpatisserie.com
Join Pix Patisserie for an Easter Egg Hunt Extravaganza featuring 50 eggs hiding around the restaurant. Each customer can claim one egg, each containing a golden ticket and a chance to win up to $50 in FREE treats! Doors open at 2 p.m. sharp for the hunt.
Pix will also be serving Easter Sunday Tea featuring a pot of Townshend's Tea paired with 15 bite-sized sweet and savory treats. The cost is $30 per person. Tea will be served at 2, 3 and 4 p.m.