From our sponsors: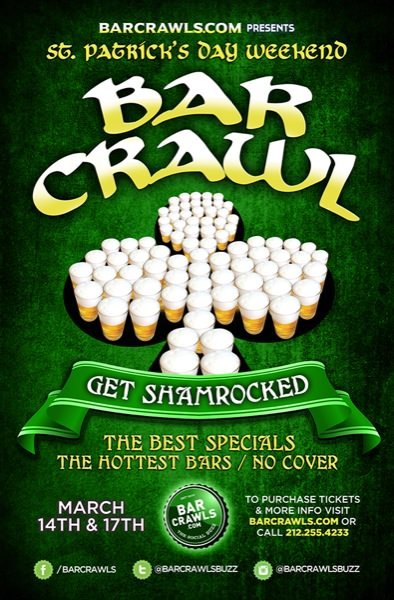 St. Patrick's Day Bar Crawl
March 14, 17, 2015
2-Day Pass $15 / $10 Individual Day | 21+
Saturday: Noon – 2 a.m. | Tuesday 5-midnight
More info: barcrawls.com
Registration: Silver Dollar Pizza Co
501 NW 21st Ave. Portland, OR 97209
We know it took the luck of the Irish to make it through a weekend of Saint Patty's Day bar crawling but you haven't made it to the pot of gold yet! Join us this St. Patrick's Day on Tuesday, 3/17 at 5pm in Portland to partake in the fun, enjoy the best drink specials at the top bars, and of course – no cover at any participating venue!
Register at a Bar below between 5pm and 10pm to get your BarCrawls.com wristband, cup, and map to get you the finest specials Saint Patrick's Day has to offer! 2-Day Pass holders, please be sure to register at one of our registration spots. Details below.
Registration Locations

Silver Dollar Pizza Co – 501 NW 21st Ave. Portland, OR 97209
Please note: Drink special times and prices vary per venue. Ticket holders may visit any participating venue in any order. Admission to each venue is based on real time capacity. Entry is at venue staff's discretion. Get your wristband, cup, bar crawl map, and other items at registration.