From our sponsors: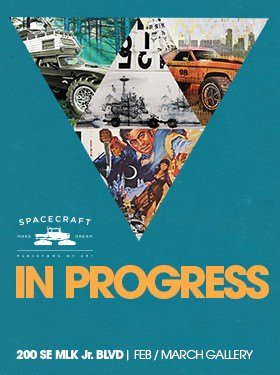 IN PROGRESS FROM SPACERAFT: Opening Event Friday
February 27, 2015
6-9 p.m. | Free
More info: http://culture.evo.com
evo Gallery
200 SE Martin Luther King Jr Blvd, Portland, OR 97214
(503) 972-5850
This body of work is a cross section of process and concept. Generally narrative, driven with larger gestures of abstraction emerging, the collection takes work from both places and brings them together in one show. As I look at my own work and see the scope of ideas I feel like there is a shift in process coming about. Much of the work is gesturing towards larger unresolved questions. I like to bring previously unrecognized icons from our culture to the work as a central figure. I am influenced by the nouveau realism movement. The layering of paper, paint and information creates a sense of time, abstraction and controlled chaos. In Progress opens at evo in Portland Friday, February 27th.
Stefan Hofmann received his BFA at the University of Washington where he was awarded a Fulbright scholarship, which offered him the opportunity to travel Indonesia for 3 years, where he founded Spacecraft. Stefan has been the visionary and creator of art and products for Spacecraft ever since.