From our sponsors: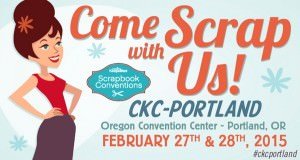 2015 Creating Keepsakes Scrapbook Convention
February 27-28, 2015
More info: http://bit.ly/PDXPipeline15
Oregon Convention Center
777 Northeast Martin Luther King Junior Boulevard, Portland, OR 97232
(503) 235-7575
The much-awaited Creating Keepsakes Scrapbook Convention is coming back to the Oregon Convention Center, February 27th & 28th for a weekend FULL of fun including education, shopping & crafting.

This year, CKC-Portland is bringing the hottest vendors, new education classes, fun prizes to win at the crops, contests galore, a "prize egg hunt", swag bags FULL of goodies from the best brands, and SO MUCH MORE.
Here's what you can expect:
Shopping
OHHHH, the shopping! With a Vendor Faire packed with booths from top scrapbooking brands including Heartfelt Creations, Queen & CO, SEI, Quick Quotes, The Paper Loft, and so many others – it's no wonder the lobby is packed with excited shoppers long before the doors actually open. Many attendees opt to purchase an EARLY BIRD ENTRY ticket so they can shop an hour BEFORE the rest of the crowd!
Learning
Taught by industry experts, CKC classes educate attendees on the newest techniques, allow the opportunity to play with the latest products and tools, and the best part – in most cases, provide a completed project at the end of class! Whether you're creating a mini album, greeting cards, 10 new layouts, a fancy new home décor item, or learning how to tell your story through photos … you'll be so glad you signed up for these can't-miss lessons!
Click HERE for the complete class schedule!
Cropping
Without a doubt, most scrapbookers & paper crafters have unfinished projects on their "to-do" list. The Thursday, Friday, and Saturday crops are the PERFECT opportunity to gather your girlfriends, your tools, and your photos to complete those projects while having a great time! Crops are full of socializing, creativity, fun games, contests, prizes, and inspiration. All in all, a chance to celebrate a much-loved craft surrounded by people who love it just as much as you do!

Now that you have a good sense of the fun, check out our website here: http://bit.ly/PDXPipeline15 to learn more about the event. You wont regret spending the weekend scrapping, especially if you gather your best friends to enjoy it with you. See you there!